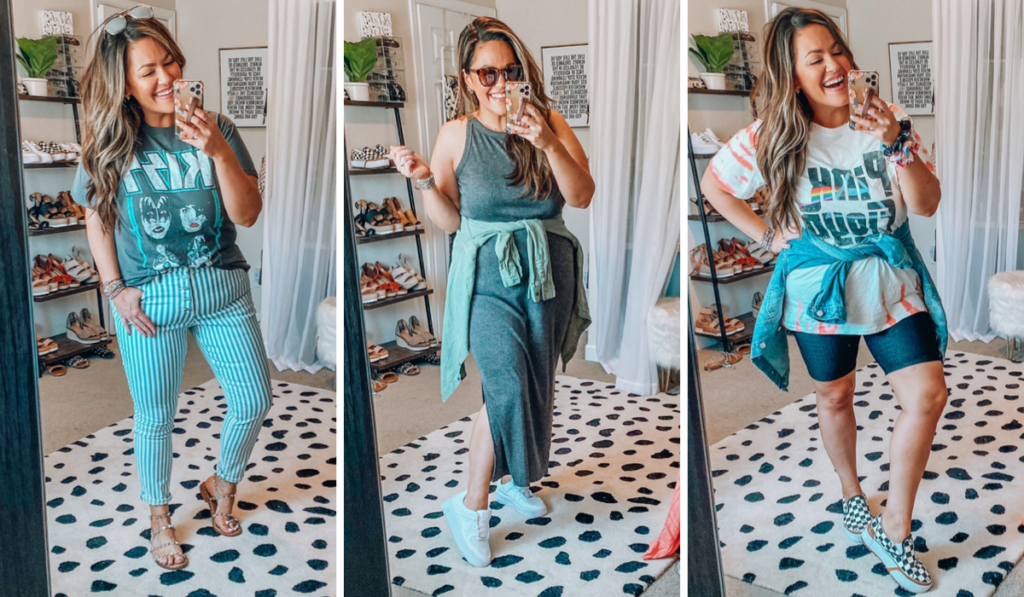 When I asked the other day in stories if you wanted to see a Target or Amazon haul first, Target won by a hair. I will be sharing my Amazon haul soon and just a heads up, I found some crazy good stuff! Let's jump into this Target haul shall we? I am including all my sizing details above and will let ya know what size I am wearing to hopefully make it easier for you to shop (I know how hard it is with fitting rooms being closed down). Also just wanted to mention that if you missed the try on haul I did on the Gram, I will link it for you HERE.
Outfit #1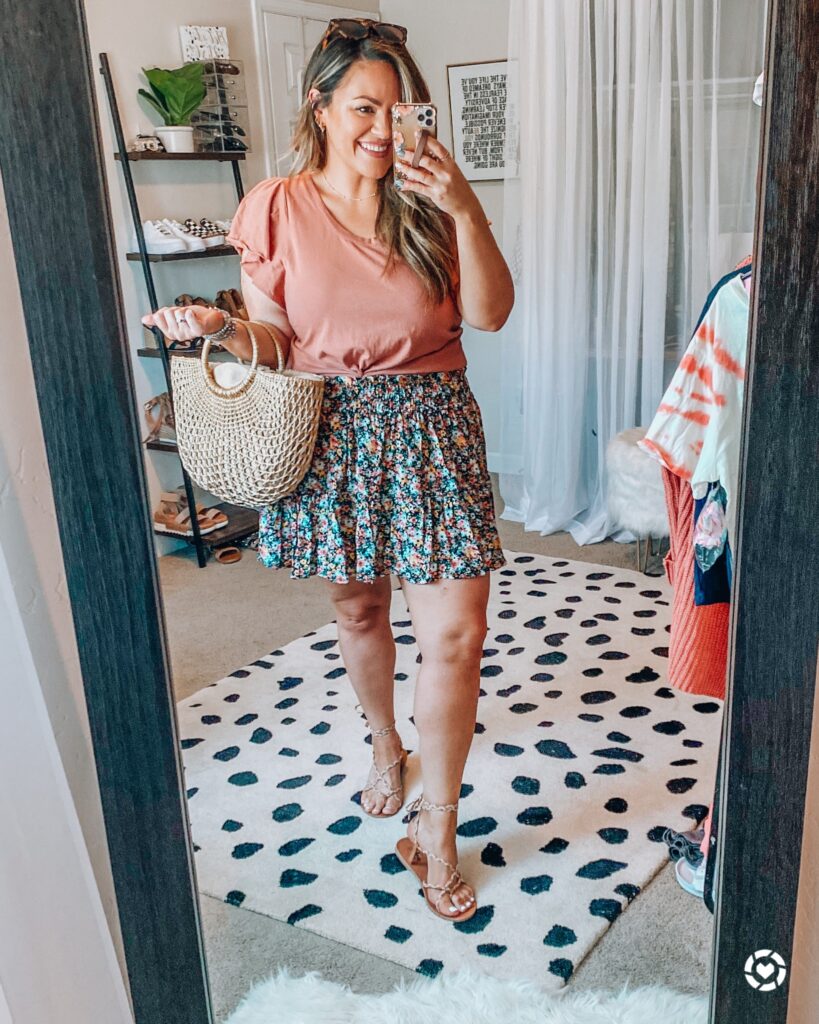 This cute comfy summer look is perfect for running errands, heading to the pool/beach or even a BBQ with family. I adore this flutter sleeve tee comes in multiple colors and fits tts. I have it knotted here and tucked into this cute little ditsy floral skirt. The top of this skirt is smocked so it is super stretchy and can be worn so many ways. I paired this outfit with my new Amazon gladiator sandals which run tts and come in tons of colors. Also, how dang cute is this new woven bag I found on Amazon? So perfect for summer and the lining cinches so nothing will spill out.
Outfit #2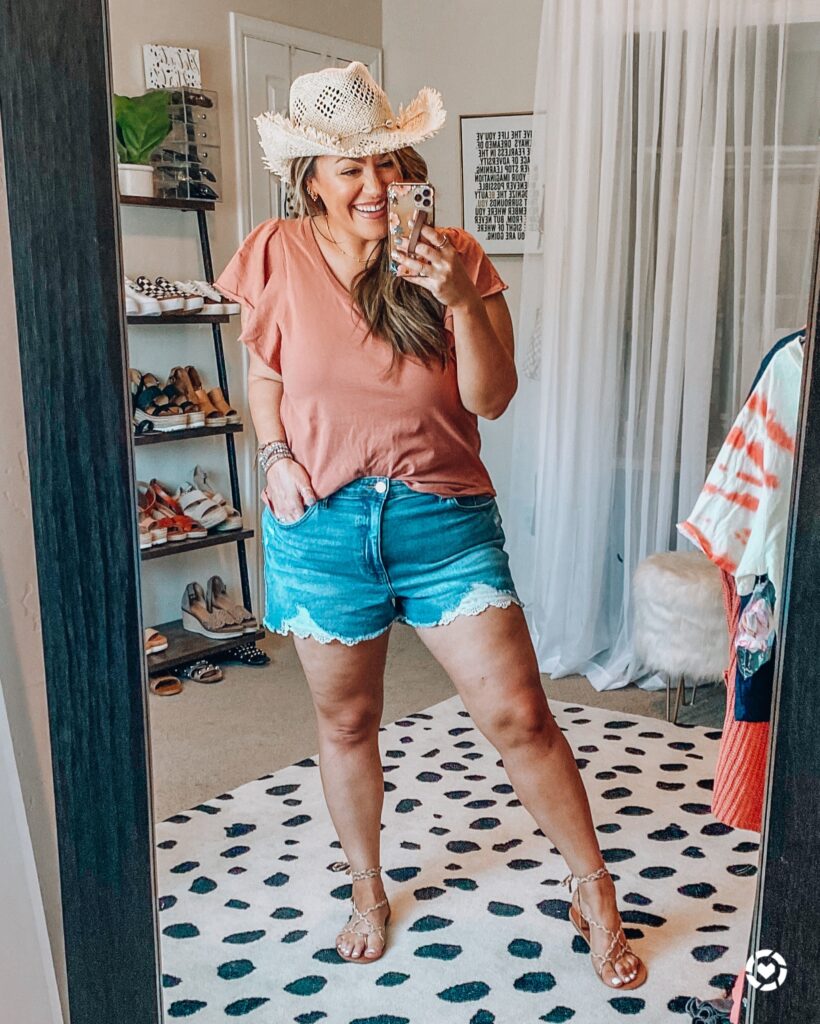 Can we take a moment to admire the lace detail on these shorts? Ugh so cute, right?! Here is the kicker though, I am right in between a size 12 & 14 at the moment ( Thank you, quarantine snacks HA!). I got these in a size 16. My point here is that SIZE DOES NOT MATTER! I like my shorts looser, and these feel so much better in the size 16 because they are a more rigid denim (no stretch), did I let the size of these bring me down because they are a few sizes bigger than I have been wearing? NOPE! Sizing up is never a bad thing, if they feel better in a size up and look better too that's all that matters.
Outfit #3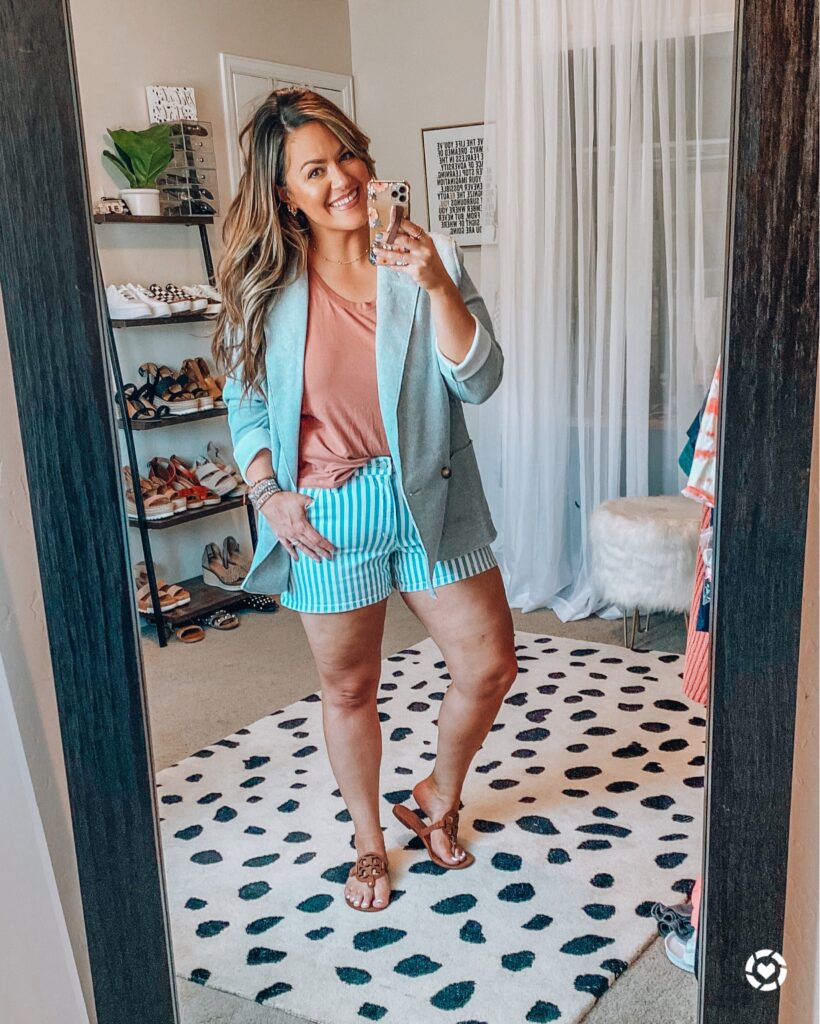 I had to bust out my new favorite blazer with this outfit, it is a summer staple piece for me. I love that I can dress this down with shorts or throw it on with dress pants for work. It runs oversized and I probably could have sized down (wearing a 12) but I love the oversized fit and it's just so comfy. (Did I mention that it is on sale right now 50% off!) I paired it with these Target shorts I have been loving, they run tts (size 14) and have great stretch.
Outfit #4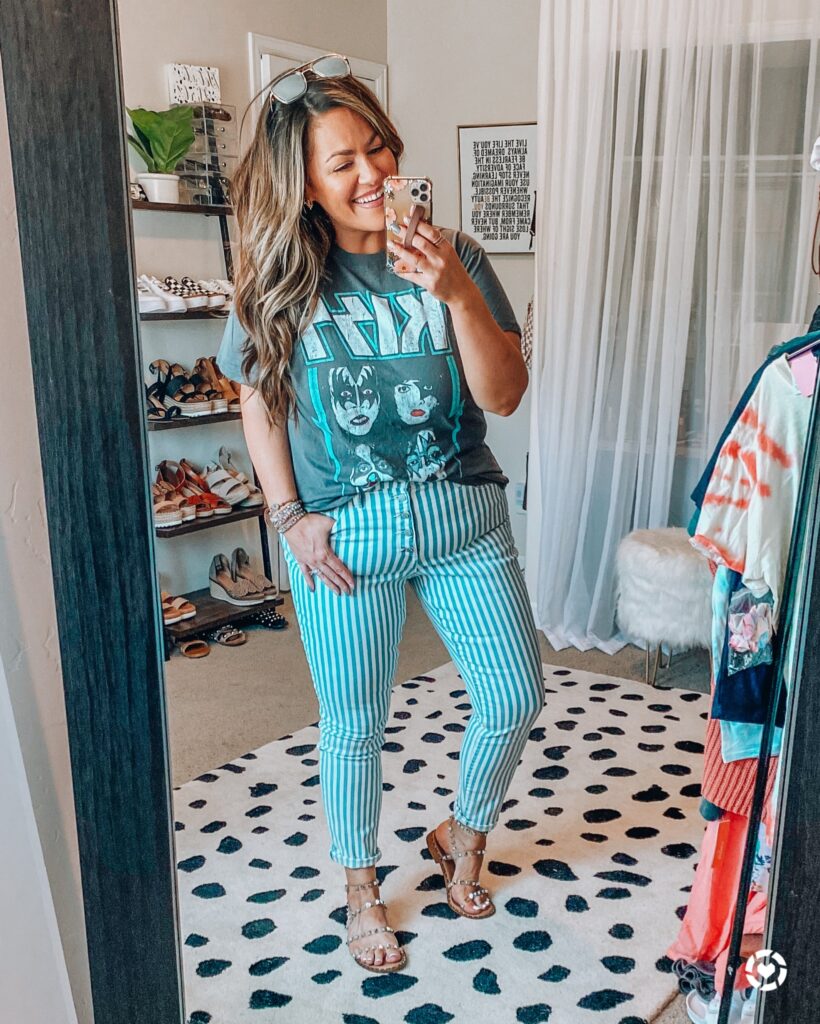 I don't want to pick a favorite outfit, but this might be it! lol This super comfortable band tee is a large and so lightweight, it feels like one of those tees you would steal from your dad because it is 20 years old, washed a billion times and just so cozy. I just picked up these jeans because I loved my striped shorts so much and they are the same amazing stretchy fabric. These jeans are life (size 14)! I paired this outfit with my favorite studded sandals, you wouldn't think these would be comfortable but they are by far a summer favorite.
Outfit #5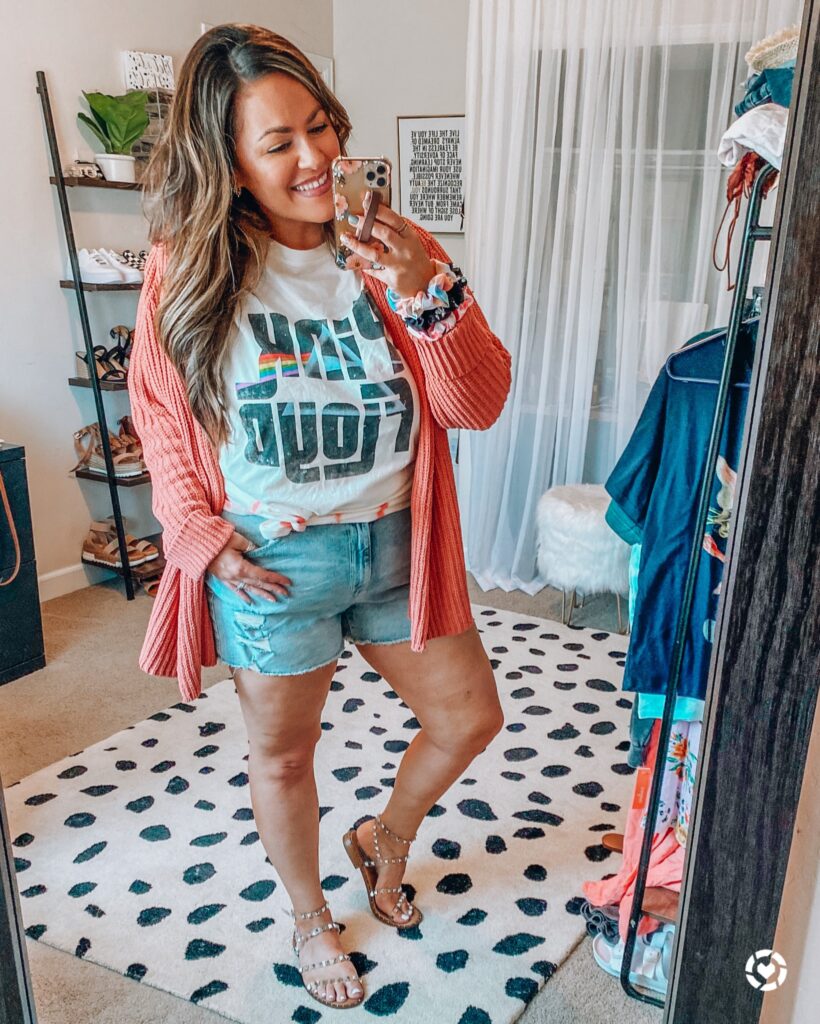 1
Everytime I wear this cardigan in stories I get questions about it, i do wear it a lot! LOL Its just so cozy and I love the coral color for summer. I am wearing a large and there are many other great colors available. The best part is that this cardigan is now on clearance! Yasss! These jean shorts are great for girls with more of a pear shape or hourglass figure. They are a little too tight in the waist on me, but if you are someone who typically experiences gapping in the waistband you will love these (size 14). I love this tee a lot but will talk about that more in a second. lol
Outfit #6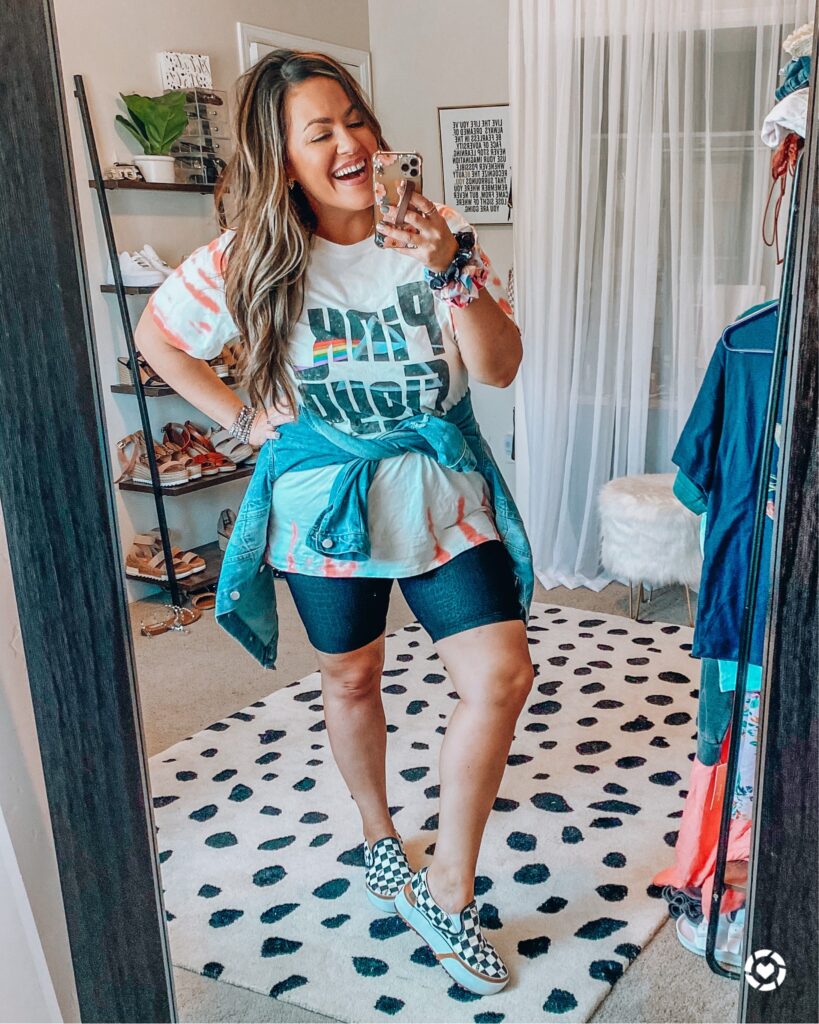 I am sure the suspense was killing you while you waited for me to talk about this tee. BAHA! Just be warned sizes are going to go quick in this, everytime I post a pick in a cute graphic tee from Target it is gone in a couple days. I am wearing an XL and love the fit, it is the perfect length to wear with leggings or these cute crocodile embossed bike shorts (tts L). I really love these bike shorts and I am super picky, they are so comfortable don't squeeze too much and the price is just so good. I love tying jackets or long sleeve tops around my waist to accentuate it, this boyfriend style jean jacket is a large and so affordable! Also just wanted to give you a heads up my favorite vans are restocked finally, they run tts and I love the platform (I need all the height I can get compared to my 6'2″ hubby.).

Outfit #7 & #8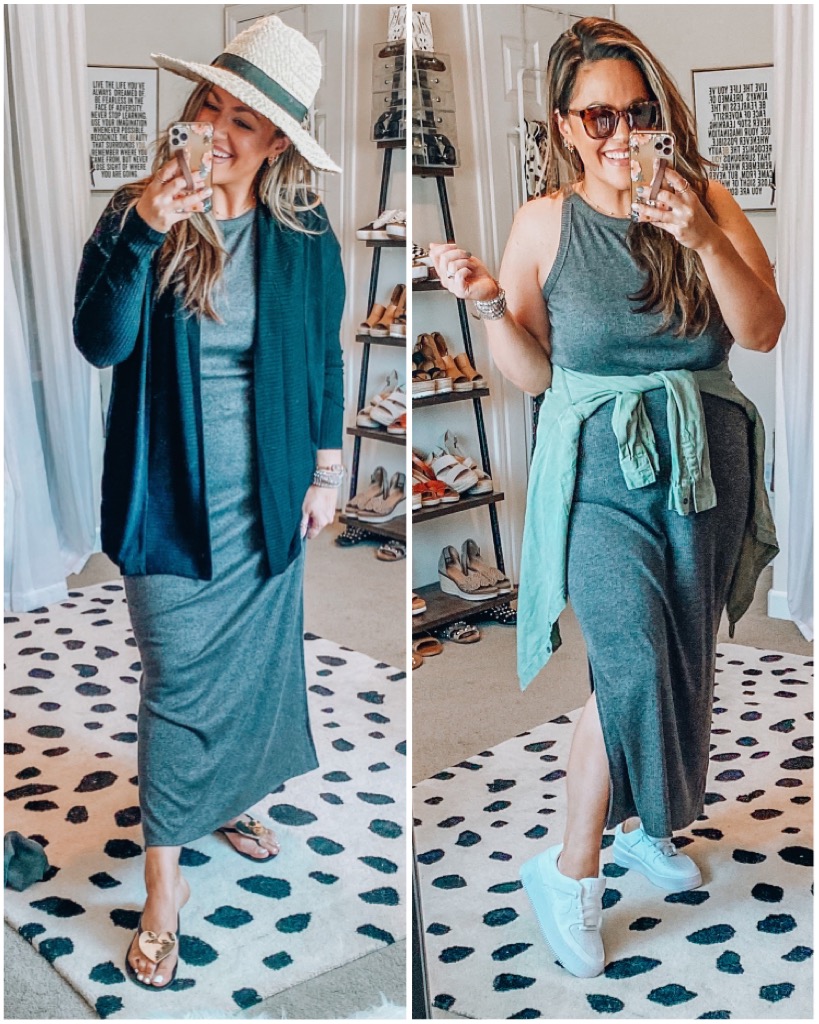 I always grab at least two things I would normally not try when I am shopping, It helped me to step out of my comfort zone and sometimes I find real winners like this midi dress! I normally don't gravitate to high necklines because they can make me look too… I am not sure why, I think I just like to look at my collar bones. lol! Anyway, this dress is SO GOOD! It is a light weight knit that is so stretchy and delightful, comes in multiple colors and the way the neckline is, it just really flatters my shoulders. LOVE IT! I styled it up with my favorite cardigan on the left, for you, just a comfy casual summer look. I purchased that cardigan in grey last summer and wore it all the time, I was so excited that it came back and snagged it in the black. I pretty much take one of them with me everywhere. On the right, I simply tied my army green button down around my waist and paired with my favorite white sneakers. If you are looking for a comfortable everyday white trendy sneaker, THESE ARE IT! So good and they are TTS.
Outfit #9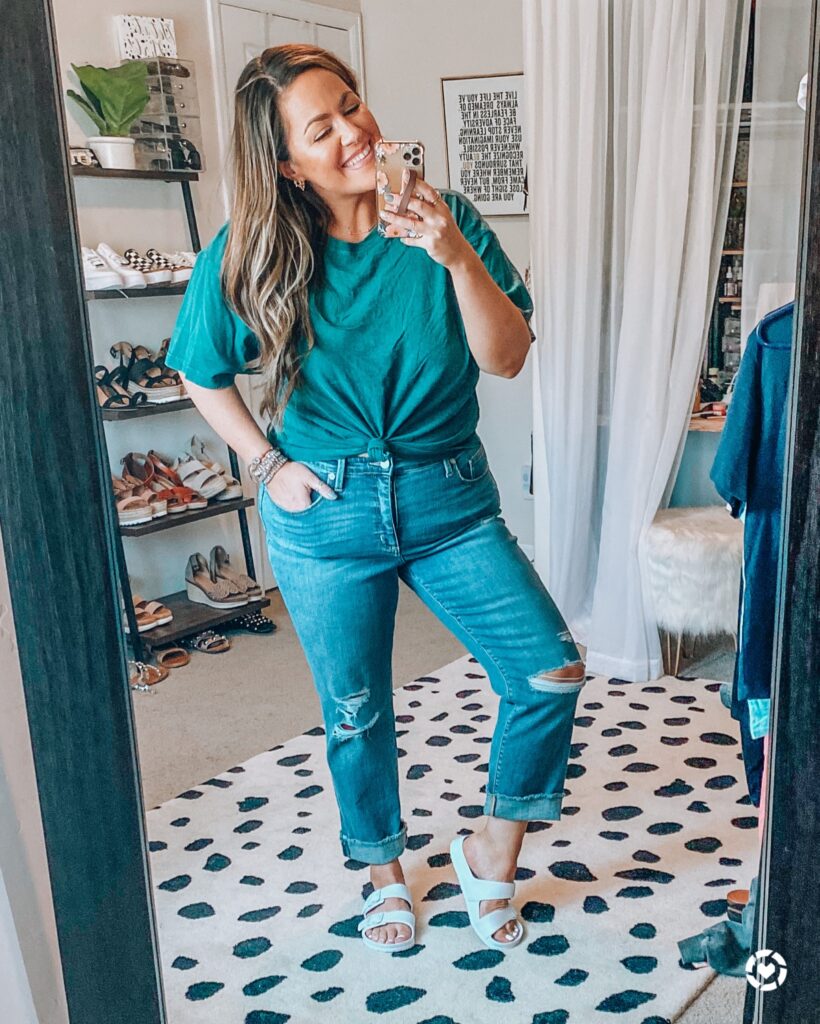 I always love a good comfortable basic and this outfit is that. This super comfy boyfriend tee is a basic, I love the loose oversized sleeves so they don't cling to my arms. Comes in multiple colors and is TTS, I am wearing a large. I was pleasantly surprised by these jeans, they have tons of stretch and are a comfy boyfriend style. I am 5'6″ and they hit me right at my ankle, because they have a raw hem I might cut them off a little so they are about the length of where I rolled them in the photo. Cutting off jeans is so easy, I did a little tutorial video HERE if you have a pair that you would like to crop. I picked up these Birkenstock inspired sandals to take to the lake because they are waterproof and will be so easy to rinse off if they get muddy.
Outfit #10 and #11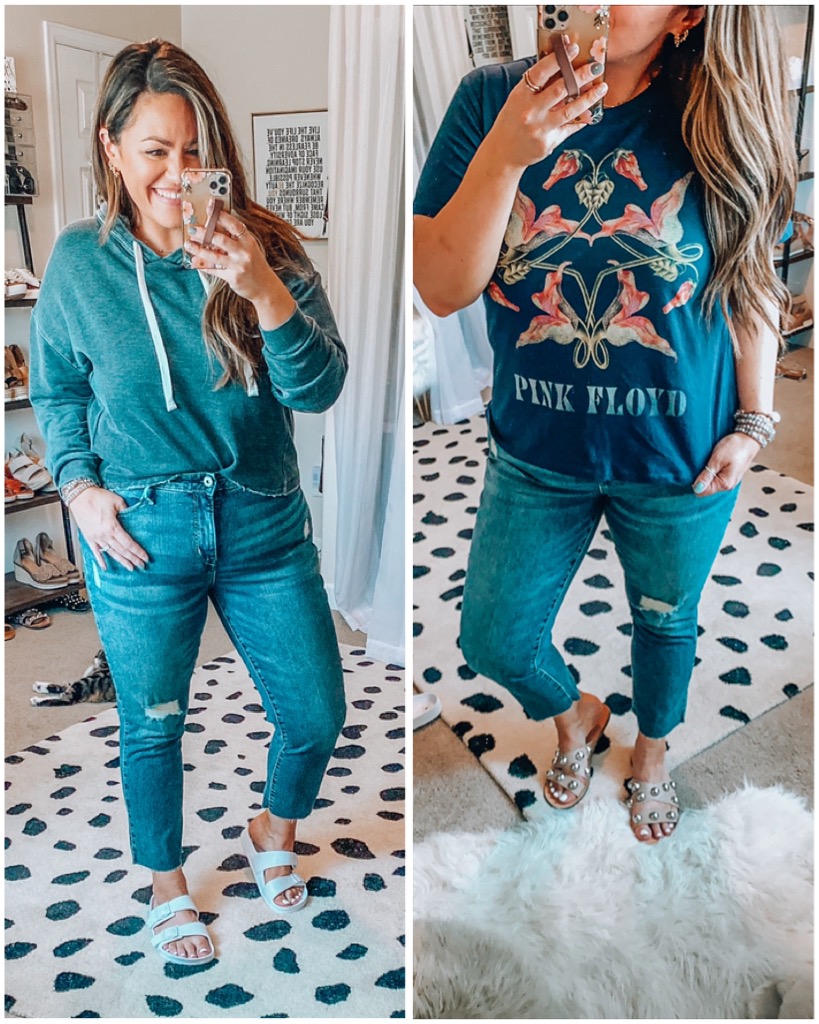 If I am being honest, jeans and a tee/hoodie are part of my everyday style! I love to be comfortable as you can probably tell ha! These boyfriend jeans are so dang flattering, I am wearing a size 14 and they are snug so if you are between sizes I would totally size up. This cropped hoodie is so lightweight and cozy. I am wearing an XL and it comes in multiple colors. This Pink Floyd graphic tee runs more fitted, I am wearing an XL and probably would prefer an XXL so it is a bit more loose and oversized.
I always love doing these hauls, they are so much fun! What type of haul would you like to see? I love hearing from you.