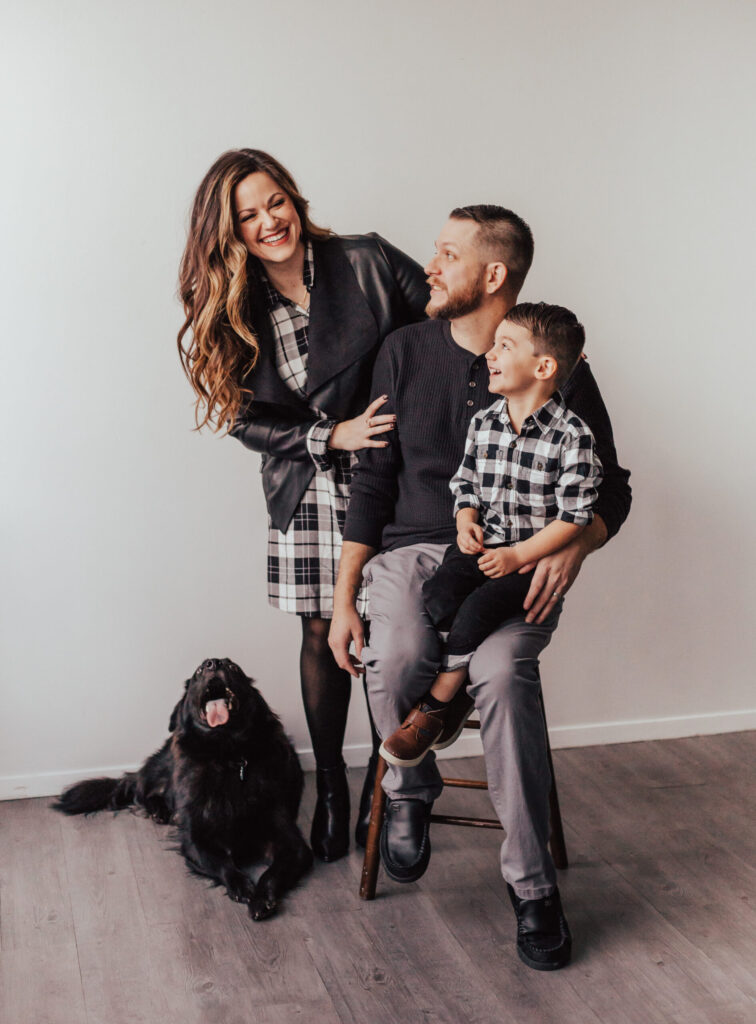 Hi Beautiful!
My name is Taryn, you may know me as the smiley, positive and energetic face behind Taryn Truly. I am a small-town girl, born and raised in Michigan. Married to my amazing hubby AJ for 6 years and we live in the Salt Lake City, Utah area. We have one "baby" (he's not really a baby anymore) Lucas, who is 7. We love animals and have 2 doggo's and two cats honestly, we would have an entire farm if we could. I am the type of girlie that loves fiercely and works tirelessly when I have put my mind to something. I am also completely scatterbrained (hello ADHD) at times and get easily distracted by shiny objects & fluffy animals. (squirrel!)
Really though, I'm just your average 30 something chick rocking a size 14ish, thick tummy, no thigh gap, stretch mark riddled bod with confidence. I have been a thicker girl my entire life which has had its challenges for sure. I finally discovered how to show myself love after I had my son. That is around the time that I coined the term "self-hate survivor". My main goal is to be your virtual bestie (we can never have to many GF's amiright? ). I want you to feel less alone in this huge world, inspire you to try new things and of course I will share all the affordable style because let's be honest, I love a good deal! My platform is built on a foundation of truth, I mean "Taryn Truly" kinda gives ya a hint. 😉 I put a lot of thought, time and testing into product recommendations and I will give you the honest truth about products I am not loving. (I mean, we are besties remember!) 
---
Commonly Asked Questions:
Personal
---
Fashion
HEIGHT: 5'5 ½" I usually round up to 5'6 😉
SIZING: 12/14, 31/32 in pants depending on the brand and typically wear a L/XL in dresses and tops depending on material and how I would like them to fit. Chest is a 36DD, shoes 8.5/9.
Mid size is when you are at the top of the standard sizing ( S-XL) and not quite into plus sizing. I am that in between which can make it tricky shop. Some also refer to us as "inbetweenies". When I first heard the term my head almost exploded because that is me to a T!
---
Beauty
Nope, this hair is all home grown. I recently did pick up some hair extensions off Amazon I have been playing with and testing for you, I will link them here. I am still playing around with them but they are great quality and I will do some tutorials and a full review soon.
When I went to my stylist to initially get my hair cut and colored the way I have it, I showed her a photo of JLO and said make me look like her. HA! For real, I love JLO. But my haircut is a shag haircut or a fringe cut. I have long curtain bangs now. They were shorter and I loved them but I think I am growing them out for the summer. We will see. Curtain bangs are the best because they are so easy to grow out and style. As for my color, I have no clue I just tell my girl if I want to go lighter or darker and what color family and she waves a magic wand. I will say that I have found some game changer hair products that help keep my color treated hair looking and feeling so healthy I have an entire post talking about that, you can check it out here.
I love this for a deep gorgeous island vacation tan (color dark). I get the color dark and use this mitt to apply. I will say that this is more of a special occasion tan for me because it is so deep and beautiful.
If you are looking for a drugstore option that works well this is really great too, just doesn't develop as fast and is more of a clear formula so it is easier for me to miss spots.
For my face I use these drops and mix them in with my moisturizer a couple days a week. I like the color medium for winter and dark for summer.
---
Blogging