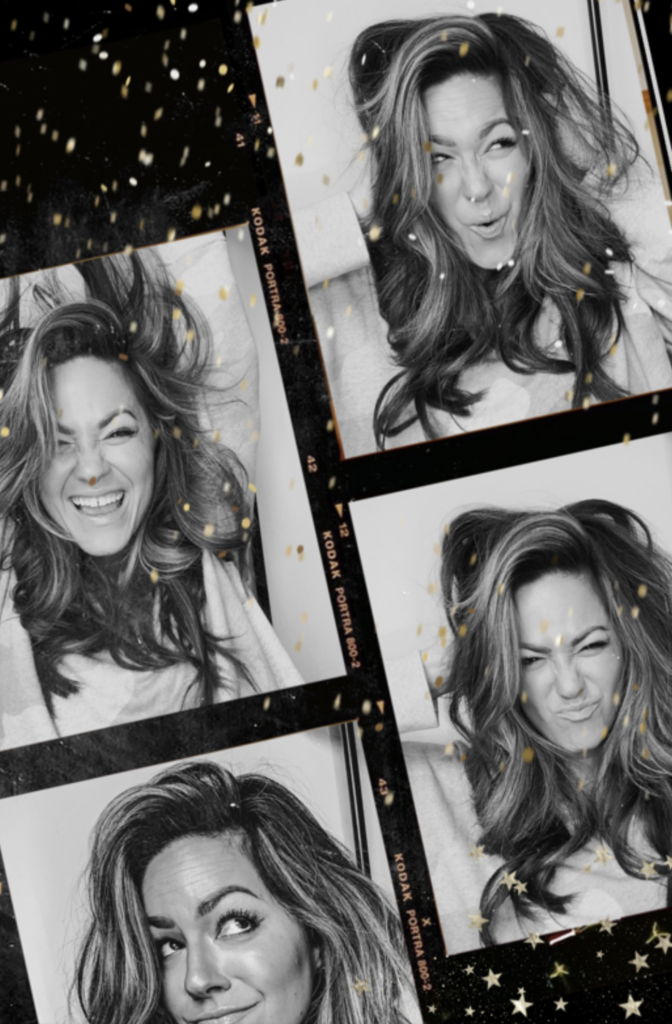 The number one thing I am asked about is my hair. You want all the info on how I make it so voluminous and healthy. Well, let me tell you that I am pretty picky about what products I use for multiple reasons. I truly believe when it comes to beauty and haircare it is worth it to purchase quality products. Quality doesn't mean you have to break the bank but I find that while they may be more of a splurge compared to drugstore options, quality products last WAYYYY longer, I use LESS product and they show the best results.
TEN HAIR PRODUCTS THAT WILL CHANGE YOUR HAIR GAME!
I have legit tried almost all the dry shampoos…okay, well most of them. Because of my scalp issues it was so hard for me to find one that did not make my psoriasis act up or make my hair feel chalky and filled with build up! Let me introduce you to this magic! It is the perfect dry shampoo. It actually helps clean my hair, does not build up, sprays practically clear so it doesn't make my hair dull and I don't have to use it every day. The trick I do is spray some in at night then go to sleep, when you wake up brush through and viola clean hair with a little umph at the root. You can also get a trial size in this kit with a few other products I really love. If you want to see my process of how I go 7 days between washes and get crazy amazing volume you can check out this highlight on IG.
This probably sounds dramatic but this stuff legit saved my terrible scalp! I suffer from psoriasis and dry scalp and this natural serum is just pure gold. I use it after I blow dry my hair and rub it into my scalp. I love that it doesn't leave my hair greasy at all. Since I don't wash my hair every day I will reapply the serum every two days or daily if needed. I really love this kit too! The entire line of products is wonderful and I use all of them in rotation with some other things.
If you want to know more about my scalp journey I talk through that here.
This heat protectant was actually a follower recommendation. I love hearing about things you love so I can try them too. This isn't any ol' heat protectant it also is a protein smoothing spray. I use this before I blow-dry on wet hair and also use it on my hair before curling or styling in between washes. It protects up to 450*, controls my frizz, smells wonderful and leaves my hair soft and weightless. One can lasts me so long, which is a huge bonus.
I had to see what all the hype was about with OLAPLEX. I purchased a gift set around Christmas and was blown away! You can see my initial review here. I tried the set for the first time and was literally shook! My hair was noticeably healthier, softer and smoother. OLAPLEX isn't like anything else on the market it is a hair bonding line that has steps to help you repair, strengthen, hydrate & bond your damaged/color treated hair. Since my initial try of them I have found my favorites from the line. I use #3 as a mask on damp hair and let it sit for as long as possible. I have even wrapped my hair up and went to bed with it on and washed in the morning. I use that maybe once a month. The shampoo #4 is one of my all-time fave shampoos. A little goes a long way. I use a dime/nickel size amount and lather it up in my hands then I gently rub it into my scalp with this to really massage my scalp, it feels like the best scalp massage ever! It lathers so perfectly and doesn't make my scalp issues flare up because it has clean ingredients. The last one I use regularly is #7 I will talk more about this one later. I was so excited that they came out with this trial pack as they were so hard to find. It's perfect for a gift, upcoming trip or if you just want to try them out to see which ones you love before you commit to the full-size product!
I've had the same bottle of this hair polish for over a year, it lasts for-EVER! This is one product with so many benefits and I am yet to try anything else like it. I love it because it makes my hair so dang shiny! It literally polishes my hair so it looks fresh and new. You can use this on wet or dry hair but I prefer to use this after blow drying and before styling. I put a pea size amount in my palms and rub them together then I smooth it all over my hair. I focus most of the product on the ends and places I style most such as the front of my hair, (did i mention it's a heat protectant too)! This goodness conditions, smooths, shines and protects from heat it's a wonderful all in one product.
You can probably tell that I love adding moisture to my hair, but that is so tricky because adding moisture can make my hair look greasy or weighed down. This is my absolute favorite leave in conditioner! It's weightless, smells wonderful and gets the dang job done! I apply this to my hair when it is wet before brushing it out.
This is not just another hair oil or serum, it's a bonding oil that is so lightweight and wonderful! This magic smooths, moisturizes and helps bond your hair back together. If you have color treated, damaged, dry hair or suffer from split ends like I do, you will love this and the entire OLAPLEX line. To apply this I first dab some into my palms, rub them together then smooth over my ends first, I use the little bit that is left over and smooth it over the rest of my hair. It is so light weight that I use it on wet hair before heat styling and on my dry hair in between washes.
This mask is my favorite conditioner ever! I use it almost every dang time I wash my hair. It smells glorious, moisturizes my hair, has no harsh sulfates, silicones or parabens and just is everything I could ask for. I apply it mostly to my ends and then smooth the left over all over my head in the shower and let it sit while I shave. I am currently out and trying not to panic while I wait for my replacement to get here! Ha! You can also try the Don't despair, repair set. The shampoo in this set is really wonderful too. I rotate that with my OLAPLEX shampoo but my OLAPLEX gets used the most lately.
If you have highlights, bleached or naturally blonde hair this conditioner is my absolute favorite for brightening up those light tones. This is new territory for me since I have always had dark hair but I researched some of the best purple treatments that remove brass (orange tones) from highlights and help perk them back up, and this was a top contender. I tried a few others but keep repurchasing this. It's just wonderful and I get out of the shower looking bright and brand new every time I use it. I use this probably once a month to keep my highlights looking fresh.
Have you ever heard of a dry conditioner? Did you know that was a thing? Well, it's the product I didn't know I needed! Ha! I got a sample of this in one of those subscription boxes about two years ago and have been hooked ever since. If you are someone that tries to go a few days between washes you will love this in addition to your dry shampoo. I focus my dry shampoo on my roots where I get most oily and use the dry conditioner on my ends. It conditions my hair in between washes because my hair can get so dried out from styling. This stuff smells glorious, is clear, weightless and I love that it is a spray!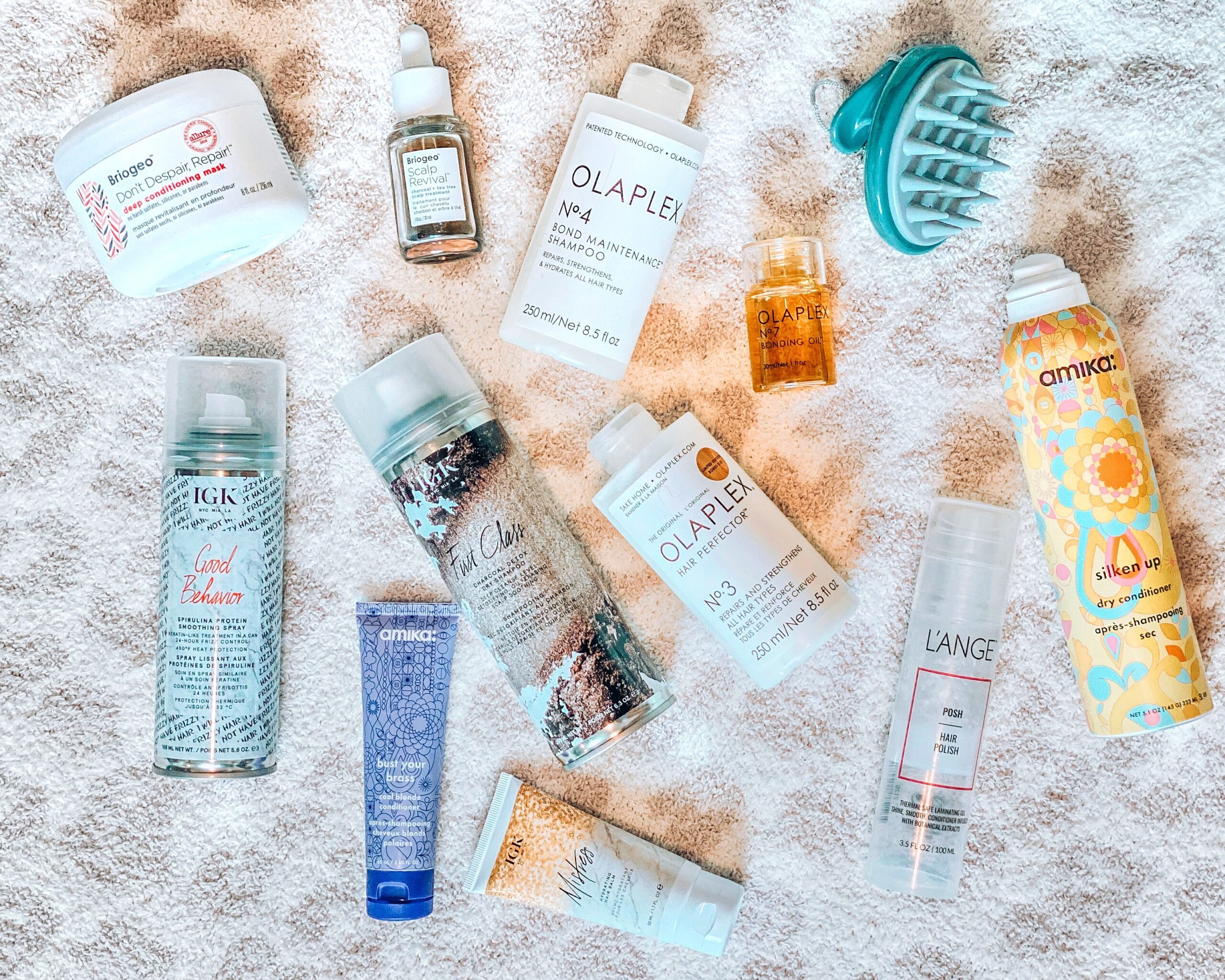 There you have it! All of my absolute tried and true favorites! Have you tried any of these products before? Anything you use regularly on your hair that you just can't live without?