Earlier this year, while aimlessly scrolling through TikTok (as you do), I stumbled upon a TikToker sharing her secret weapon to plump youthful skin in her 40's – Depology! I have never been influenced so fast as I am a natural skeptic. However, I needed to see what the fuss was about. This brand's products, especially their Matrixyl® 3000 Collagen Boosting Serum, were being raved about as "Injectables in a bottle." Depology combines the best of Korean skincare science with cutting-edge clinical ingredients, aiming for professional-level results. I am obsessed with Korean skincare and stalked the mail waiting for my new addition.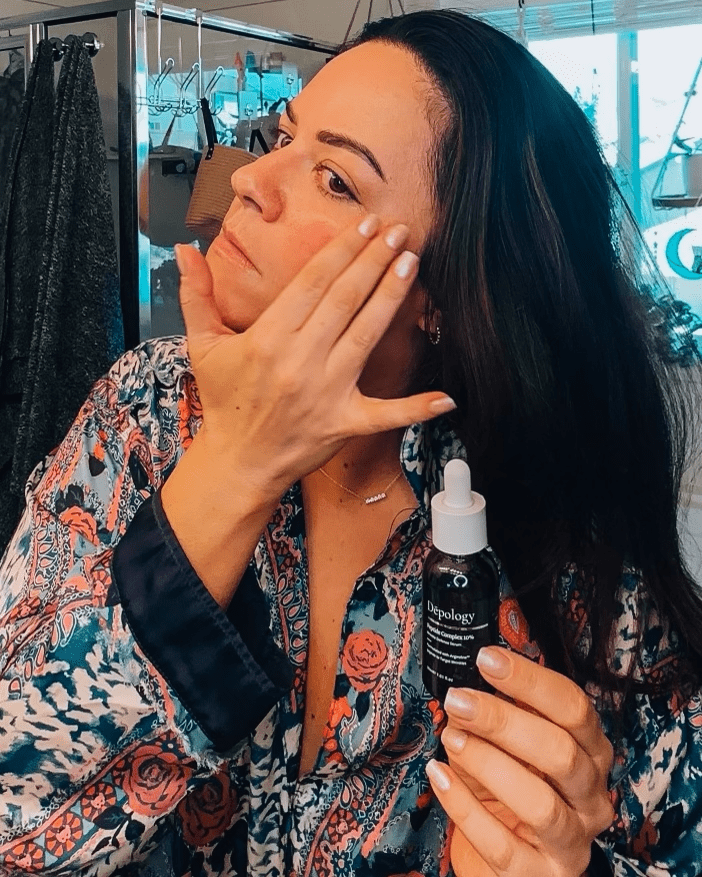 About My Skin:
To give some insight into what I am looking for when it comes to products that work for my skin so you can decide if it will also work for you, I think it is important to share that I live in a super dry and low humidity environment. So, while I do have combo skin, I typically fall on the dry side due to where I live. I am constantly searching for the most effective products to combat aging and reverse damage while also providing moisture. The last thing I need is thousands of different products cluttering my counter if there are products out there that can do it all, right? Hence, Depology.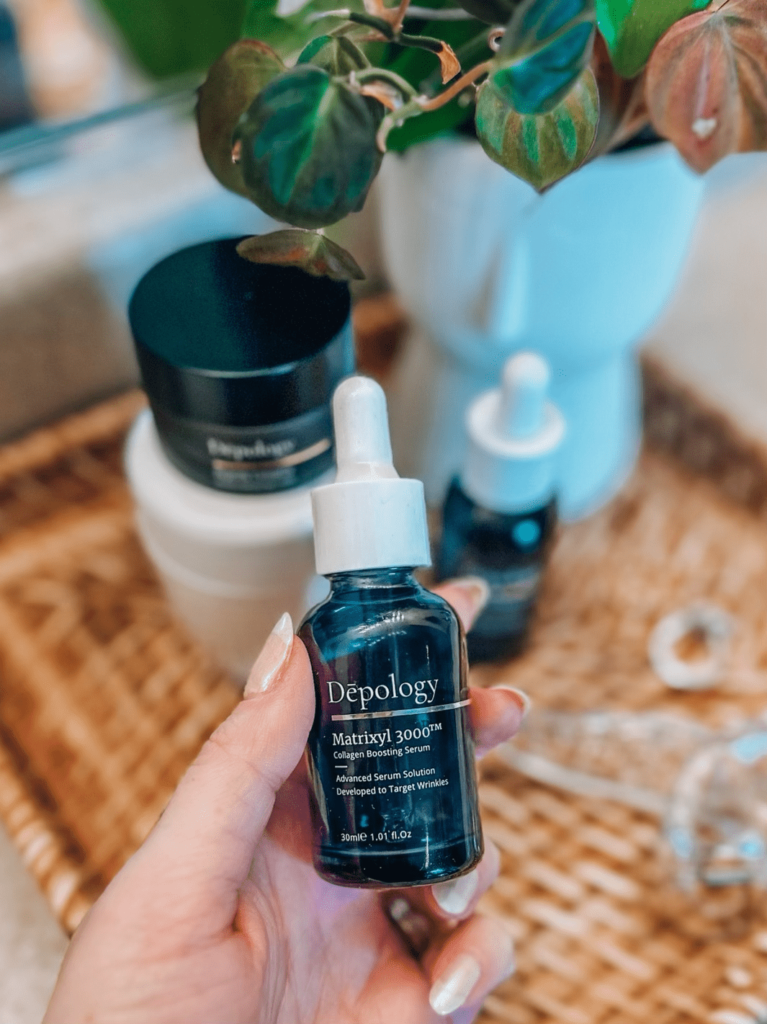 First Product – My Initial Depology Experience:
The first product that caught my attention was the Matrixyl® 3000 Collagen Boosting Serum. Disclaimer: I have recently received injectables, but my experience with the Matrixyl® 3000 Collagen Boosting Serum began in January, so my results predate the injectables I received. As someone who had considered getting injectables consistently, I was curious to see if this "Injectables in a bottle" serum lived up to the hype. It did not disappoint! I was diligent in using this serum at night for an entire month. I prepared myself to not see any results for multiple weeks as that is typical with skincare.
However, after the first week, I noticed subtle differences. Not only did the serum reduce the appearance of fine lines and wrinkles (especially around the lips and mouth), but it also left my skin visibly firmer and tighter. The magic lies in its ability to stimulate collagen production, making it a long-lasting solution for youthful skin. I've been using it religiously since January, and the results are a testament to its brilliance. After recently reading some clinical tests done with the serum, I completely understand my results! The test mentioned that the serum increased hydration by 46.31% and reduced wrinkle depth by 5.25% in just 28 days. Don't forget to treat your décolleté with this magical elixir too!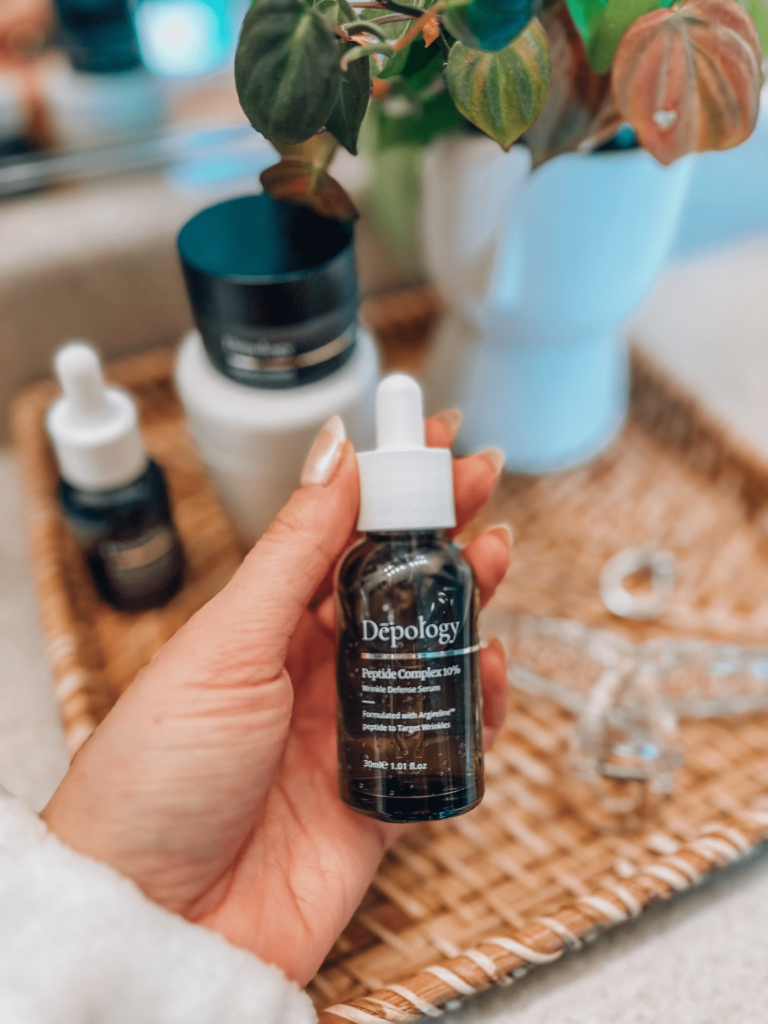 Newest Product – Unveiling the Latest Gems from Depology:
Since I fell in love with their Matrixyl® 3000 Collagen Boosting Serum, I went back to the site to order a backup and snagged another new product to test. So, without further ado, introducing the latest star in my skincare routine, Depology Peptide Complex 10% Serum formulated with Argireline peptide. This peptide-packed serum is like a shield against muscle movement that leads to wrinkle formation. I've been applying it not just on my face but also on my lips and hands – yes, the whole package! The results? Plumper, healthier skin. I feel like this combo is the magic potion I've been looking for. Not only are my fine lines noticeably smoother, the bounceback in my skin is like I am in my 20s again!
My love for Depology doesn't stop here! I've also fallen head over heels for their Peptide Complex Wrinkle Defense Eye Cream, which miraculously leaves no trace of milia under my eyes. I've struggled with Milia from so many eye creams over the years. This peptide serum and eye cream work harmoniously with the Matrixyl® 3000 Serum. Together, they create a formidable skincare trio that I can't do without. I've noticed my makeup goes on smoother and the bumps and crepiness around my eyes have decreased.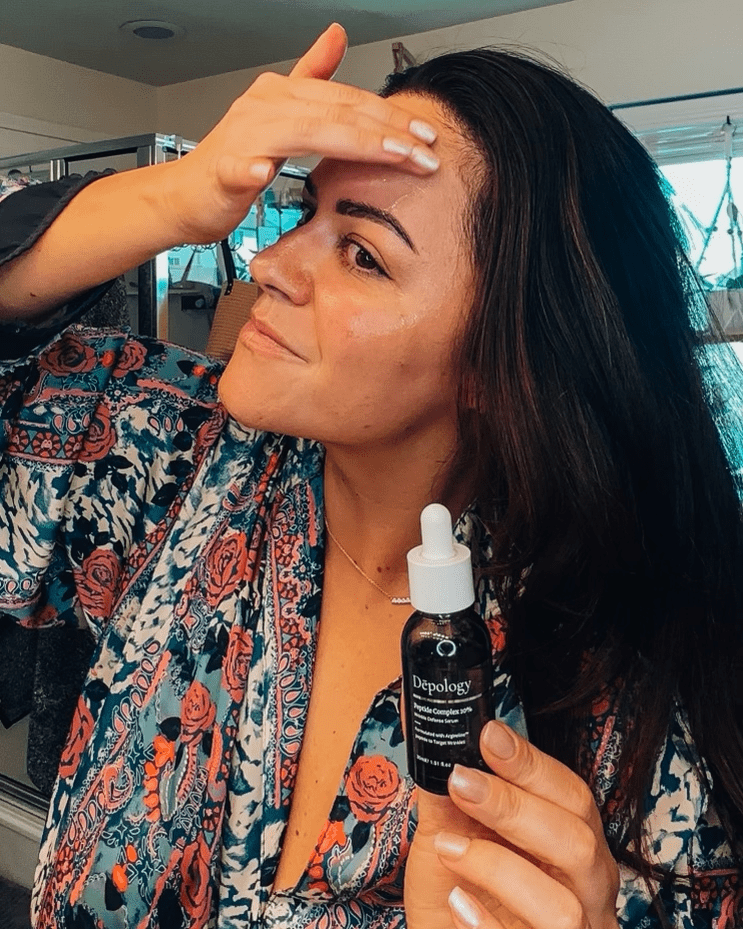 Dreaming of the Next Depology Product:
The temptation doesn't end there. I have my eyes set on the Pro-Firming Matrixyl® 3000 + Dynalift Night Mask – the concoction of this night mask promises a revitalizing overnight experience. Since I live in an already dry climate, with dry aging skin, I'm thinking this might be my winter bestie! I mean, Who doesn't want to wake up to firmer, plumper, and more radiant skin?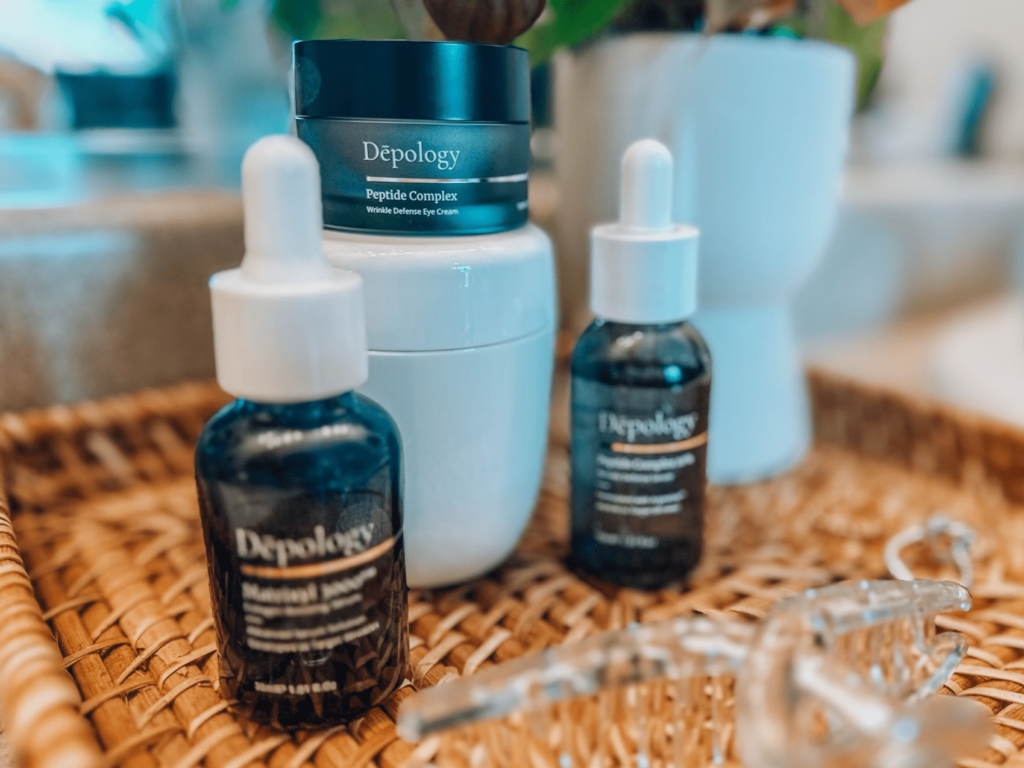 In conclusion, my journey with Depology has been nothing short of shock and awe. Their innovative blend of Korean skincare science and advanced clinical ingredients has transformed my skincare routine and, more importantly, my skin. Depology is my not so "secret" weapon (now that I am telling you) for more youthful, glowing, and perked-up skin! I think they should actually call their products "confidence in a bottle" because that's what Depology has helped me with. Trust me; you won't regret this skincare adventure! Let me know if you give Depology a try below. I'd love to hear your thoughts!