I've been working on a fall capsule wardrobe to share with you all, and it has taken me much longer than expected to get it all together. So, I wanted to pull everything into one place in order to share the products with you before they are all gone. Once I finish the document I am working on with all of the possible combinations, I will send it out via my newsletter which you can subscribe to here. In the meantime, let's get into the 40 basics I will be wearing and sharing all fall long!
Reminder: you may already have some of these basics in your closet and you do not need to grab another! I am hoping this midsize fall capsule wardrobe will help you utilize the items you already have while finding a few new pieces to add to your wardrobe for the remainder of 2023. I was very intentional with my selections, so I hope you find this to be helpful.
Capsule Tips
When building my capsule for each season, I like to think of a few things. 
1. What do I need outfits for most? For this capsule, I focused on workday to weekend looks that are super comfortable and versatile.  I want to be able to wear this wardrobe for business, business casual, date night, sporting events, and just running errands. So, you will find pieces that will work for all those types of occasions. 
2. What is the overall vibe I would like the capsule to be? You know I am a neutral girl and it just makes getting dressed so easy! You can mix and match pieces with little effort and thought. For me, I want getting dressed to be stress-free. This capsule is a mix of classic with a little edge. 
 3. What are some fun elements I am drawn to this season to add some interest to the outfits? You will see some "on trend" pieces mixed in to add some fun to the looks: metallics and pops of red that I don't see going out of style anytime soon.  
Capsule wardrobes are meant to be worn and transitioned to various seasons! Maybe adding a couple of new pieces to round out the looks. I typically like to invest a little bit into my capsule basics so they last me more than one season! When you are using a smaller set of clothing and wearing it on repeat, spending a little more on quality can save you money in the future, too. Of course, I know starting from scratch can be very pricey so I will try to include affordable options as well.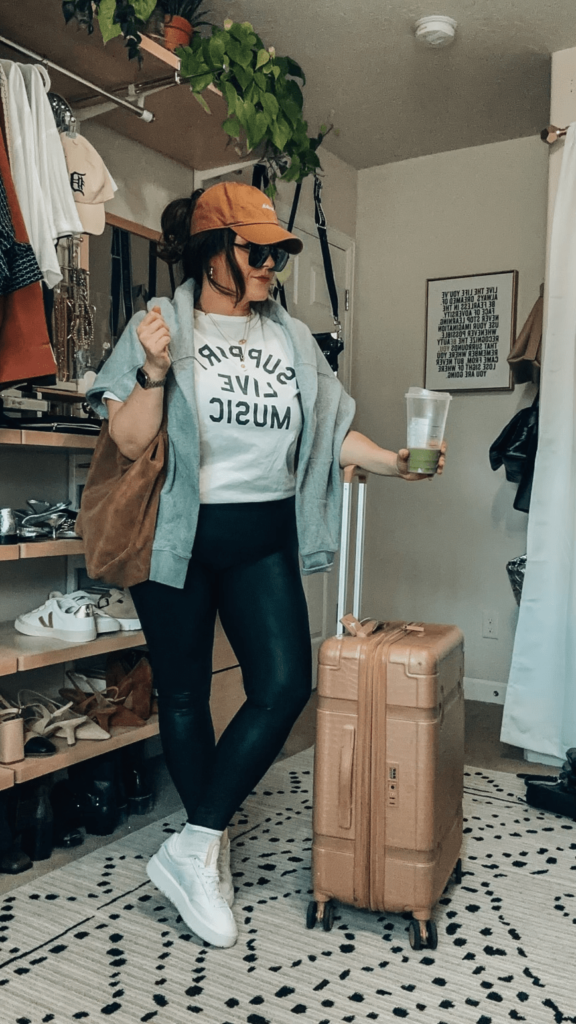 10 Tops
These T-shirts are from Express. They are incredibly soft, hold their structure, and have a v-neckline which I prefer. However, if you already have these basics in your closet, any neckline will work.
Graphic tees are a staple basic for me. While you can have some with more color variation, I chose a simple neutral option for this capsule to make it more versatile.
While this may not be considered exactly a "top", I typically wear sweatshirts as my base layer when wearing them! This grey hoodie from Express is incredibly comfortable and high-quality making it a classic you can wear for years to come.
Cardigans as tops is a trend I am loving this season. The great part is it can be worn as a top buttoned up or worn open as a layering piece which makes it super versatile. I am obsessed with the pop of red this gives too. Similar option linked here!
Chic and wearable for casual or the office! I love this black button-down with pinstripe detailing. It will add dimension to so many different outfit combinations.
I wear this white button-down all year long. It is from Abercrombie and under $50. I truly do not think you can have a capsule without a white button-down.
Whether it's a bodysuit or just a top, a turtleneck is fantastic for layering in the fall. I typically prefer to use bodysuits but leave them unsnapped as they tuck so much more seamlessly. Plus, use code TARYNTRULYXSPANX to save!
Denim has been hot, hot, hot this year and that's not changing anytime soon. I went for a more dressy version of the denim button-down for this capsule to make it easier to dress up or down.
I simply couldn't put together a fall capsule without a striped top. I love the color, neckline, and stripe size on this bodysuit.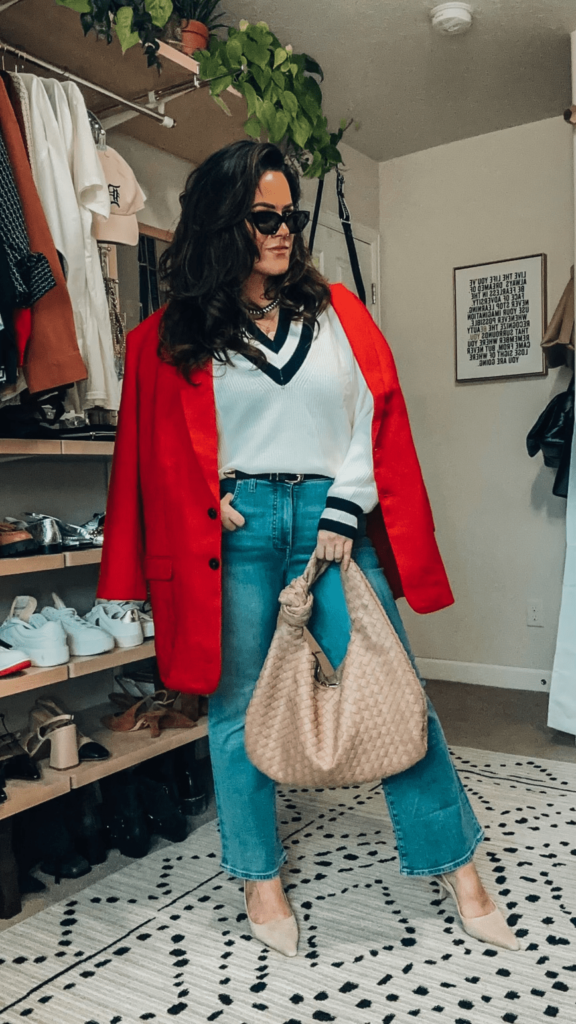 5 Sweaters
A good quality, long cardigan can truly take any look from basic to elevated. Whenever I want to be cozy yet chic, I throw a cardigan like this on and it's like being wrapped in a blanket. I am shocked at the quality of this Amazon duster cardigan.
Shorter cardigans are a perfect capsule piece because of how versatile they are. I love this one because you can style it buttoned, or unbuttoned with layers, giving you several different outfit options from just one piece.
Sweaters are one fall-look that never seem to go out of style. Investing in a neutral, durable sweater is something you'll never regret! Style it with jeans, leather pants, a maxi skirt, or even leggings – the possibilities are endless.
Just like a solid sweater but with a touch of stripe! If you are like me and told you couldn't wear stripes because it makes us look wider – let's show them WE CAN! Stripes are always a great way to add dimension to any outfit. I typically like to throw a striped sweater over my shoulders for an elevated look.
This coat-cardigan hybrid makes any outfit luxurious. Not only does it give you a high-fashion look, but it can double as a jacket during the transitional fall season. Affordable option linked here!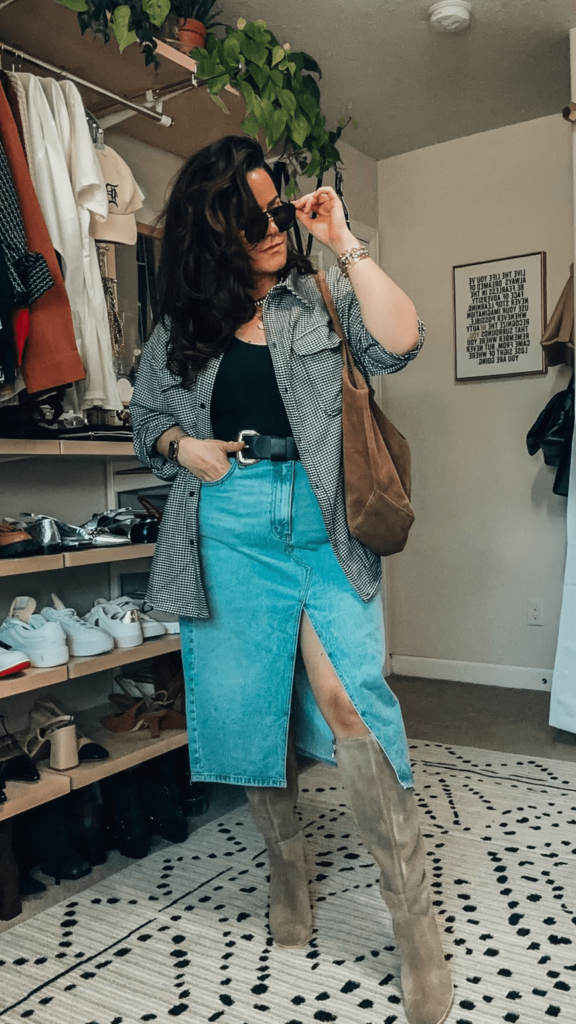 7 Jackets
Whether you love it or hate it, the oversized blazer is here to stay. Personally, this is one of my all-time favorite layering pieces. You can pair it with pretty much any basic tank or top, add some fun jeans, and you have an effortless, Pinterest-worthy outfit. I went with a pinstripe blazer for extra dimension, but a plain black one is great, too! Love this classic black option from Old Navy!
A good denim jacket is a non-negotiable in my closet. Denim on denim is trending and this is the perfect way to participate. This is another piece you never have to worry about going out of style. I just grabbed this swing denim jacket and I am obsessed with how it falls. I haven't found another with a fit like this, but any boyfriend-style denim jacket would work. I do recommend no distressing.
If you're anything like me, you need a few edgy pieces to spice up your wardrobe. After lots of searching, this Faux Leather Moto Jacket is the best all-around staple piece for those days when you feel like showing your edge. However, if you already have a leather jacket in your closet that you love, that one will work just as well! Also, have loved this Walmart option for years.
You know those outfits that are just missing something? This vest is that something. It goes with practically anything and gives you more outfit options to expand your capsule wardrobe. I ended up picking a short faux leather vest to define the waist a bit when wearing oversized pieces. Plus, it gives a little edge which us baddies love.
One thing about me is I love to be cozy. I also love to look stylish. On days when leggings and a tank are all I can get myself into, this twill shacket comes in to save the day and keep me cute. Not to mention it pairs perfectly with jeans, skirts, and trousers, too.
If you haven't heard it already, red is the color of the season and I could not be more excited. Thankfully, it's also a timeless color to contribute to your capsule. I always try to grab a couple of new items in the "fall color (if I love it!)" I decided on this red, double-breasted blazer moment, but there are so many options to explore that will keep you right on trend this season. This does run big! I am wearing an XL in pictures but I exchanged for a large.
This is a timeless piece you need in your fall capsule wardrobe. Wearing a dress? Add a trench coat. Trousers and a pullover? Trench coat. Just get one and thank me later 😉 I've had this Amazon one for years in a size XL and absolutely love it.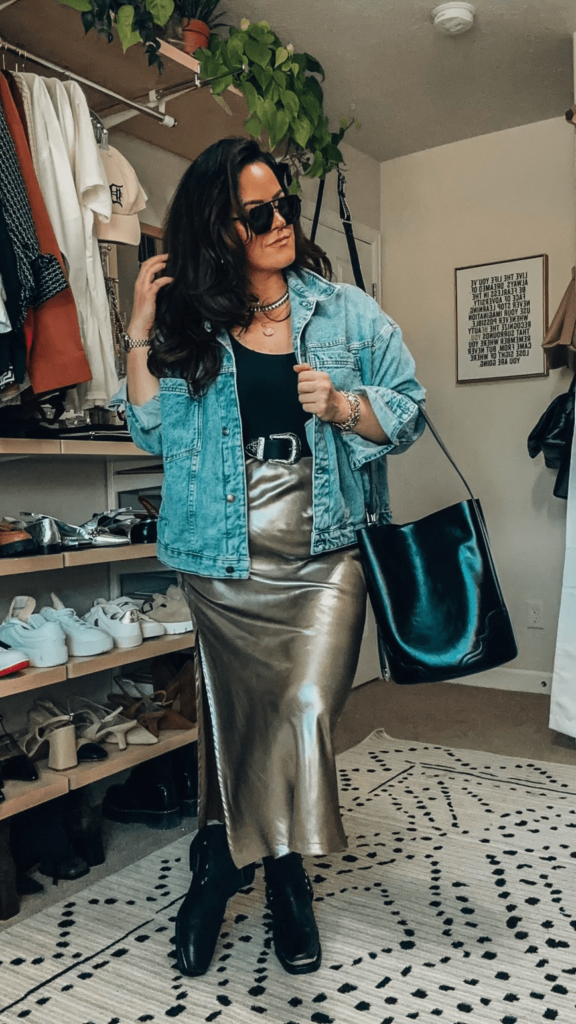 8 Bottoms
Trousers – once a workplace staple, now a versatile, timeless piece you can wear with virtually anything. Office to dinner looks have never been easier. I opted for a neutral color that goes with just about anything. If you are 5'6″ or below, get the petite to wear with sneakers and kitten heels.
As I said, trousers are a must-have. Black trousers are another must-have. I always find myself needing a nice pair of black pants, and these always come through to save the day. I love that these have a stretch waist in the back to accommodate all our unique shapes. 
Faux leather leggings are one of my most-worn fall bottoms. These Spanx ones are truly a holy-grail piece for me. They hug all the right places, smooth out the lumps and bumps, and pair with… well, everything. Ps – use code TARYNTRULYXSPANX to save! If you are 5'6″ or below, get the petite and thank me later.
A good pair of jeans always seem to be a challenge to find. However, these Madewell Cropped Straight Leg Jeans are the perfect timeless pair that go with everything.
Sometimes, you just need a good pair of slacks. I opted for a plaid option since I already had several black pant options. I love the contrast of a little plaid to mix with tops.
Spit-hem pants are like a legging with a favorite because they bring a stylish detail to a once-basic pant. I love wearing these with kitten heels or loafers for a preppy, trendy look. Also, use code TARYNTRULYXSPANX to save!
Another denim capsule piece?! Yes, please. This Denim Midi Skirt is such a great fall staple piece and can be paired with pretty much any shoe and sweater combo. An easy, quick way to get an elevated look this fall.
I'm a sucker for a cute slip skirt. A Midi Slip Skirt like this is so versatile – the styling options are endless. I loved that this was a fun metallic to add some spice to date night, as workwear or even casual outfits.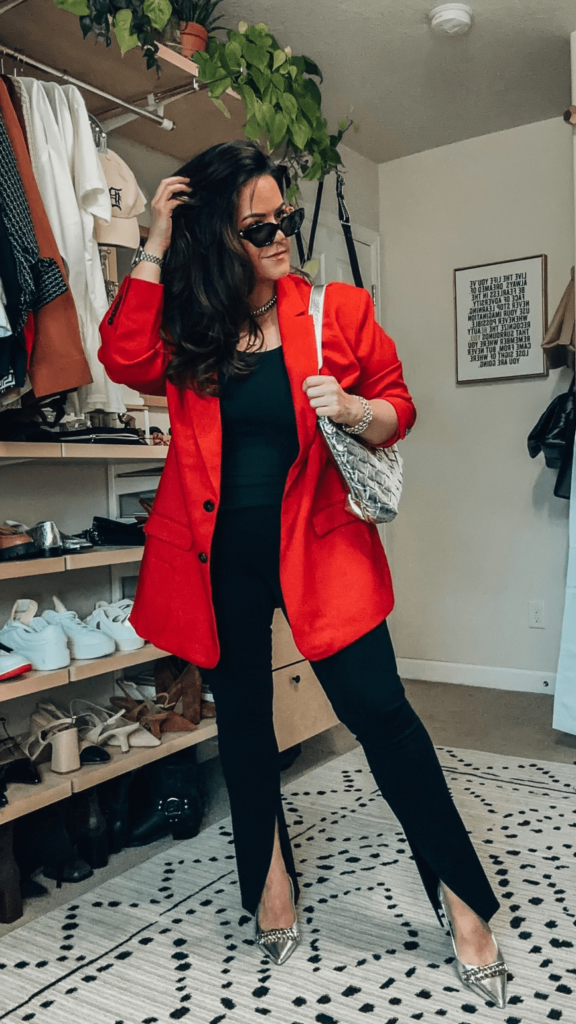 3 Dresses
A good shirt dress is perfect for those days when I don't feel like styling an entire outfit. This one from River Island is the perfect transitional dress that can also be worn with a jacket for cooler temperatures.
Sweater dresses are another one of my all-time favorites. There are so many options that are not only insanely comfortable, but also versatile. You can create so many looks from a basic, neutral sweater dress, which is why I'm loving this cream-colored moment from River Island.
A Little Black Dress is a long-standing closet staple. However, an LBD for fall is often overlooked. I found this Midi Black Dress from Express and let me tell you, it's become a top-contender in my closet favorites. It goes with anything and is way too easy to style.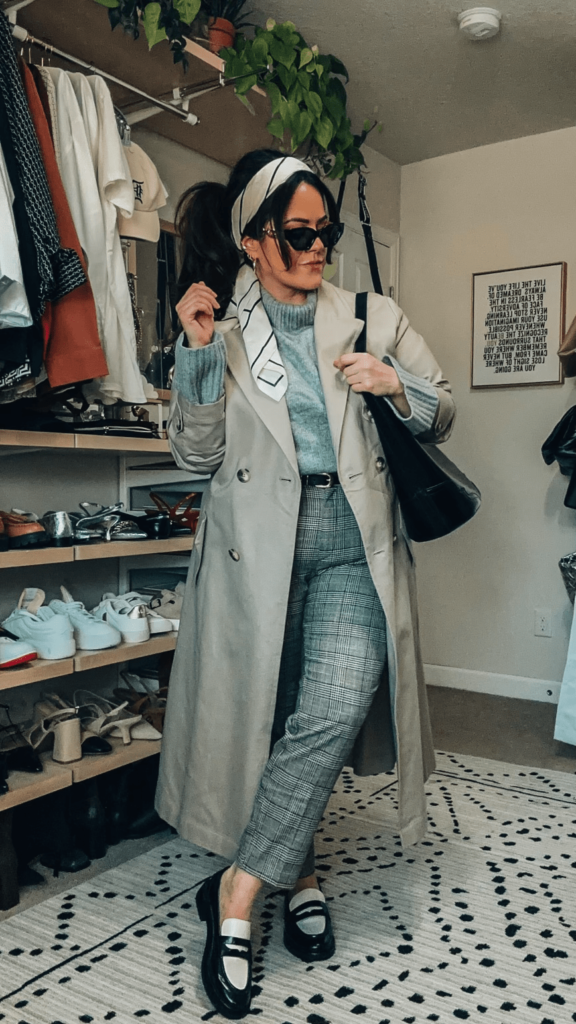 7 Shoes (all are true to size)
Loafers have a way of making me feel put together and classy. When an outfit doesn't quite work with boots, or is too fancy for sneakers, loafers are the way to go. These are another great way to style office-to-dinner looks.
As a dress lover, having a staple pair of high-knee boots is an absolute must in the fall. These neutral, high-knee boots have outdone themselves for me. They go with just about anything and give my outfits a fun, flirty edge.
I added these Moto Boots to my fall capsule wardrobe, and I know they are a splurge but they were haunting my dreams. I just kept thinking about all the outfits I wished I could style them with. I pair them with leather leggings, midi skirts, or jeans, for an elevated street-style look that I'm obsessed with.
Look for less options:

Maryjanes are everywhere this season, and I have a feeling they'll be in style for quite some time. And for good reason! These strappy shoes are the perfect alternative to heels during cooler weather, and they're extremely versatile. I am not much for the ballet flat situation but this small block heel is so comfy to wear all day. 
Anytime I'm going for a classy look, these Slingback Kitten Heels are my go-tos. The pointed-toe detail plus a slingback for foot support make for the perfect fall heel. These are the most comfortable slingbacks
I'm a shoe lover, and I always encourage fellow shoe lovers to get a fun, trendy pair of shoes for their fall capsule wardrobe. I'm absolutely loving these metallic mixed metal sling-backs and love using them as an eye-catching outfit detail. 
A sneaker I can dress up and dress down is a must and my all-time favorite shoe. Sometimes, you just want to wear comfortable shoes. With these, you can do just that, without sacrificing the integrity of the outfit. I seriously wear these all the time and think everyone should have a pair!

Remember to subscribe to my newsletter here if you are interested in receiving all of the outfit combinations I am putting together with these finds!