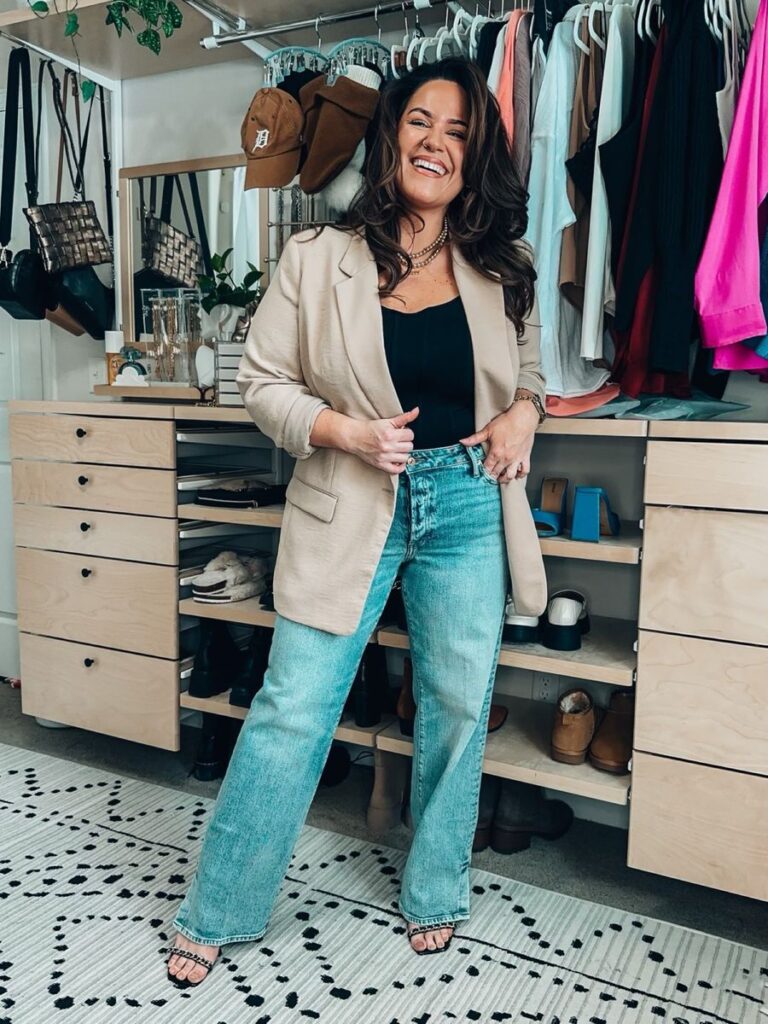 Welcome back to the latest installment of my monthly series where I dish out my honest hot-takes on the latest products I loved or didn't love. March was such a whirlwind that I didn't get a chance to share my favorite and not-so-favorite items for the month. So, in this edition, I'll be covering the best and worst products I've tried in both February and March. As always, I promise to give you my unfiltered opinions, no sugar-coating allowed.
Products I Didn't Love
Waterproof mascara
Benefit Bad Gal Bang
If you're looking for a waterproof mascara that can survive a day at the beach or a dip in the pool, the Badgal Bang Waterproof Volumizing Mascara might not be the best choice. Unfortunately, this mascara didn't live up to its waterproof claims and ran all over my face when it came into contact with water. This was a major disappointment as I was really excited to try it out. While the mascara did provide some volume and length to my lashes, the fact that it was a messy application and smudged and smudged badly made it a deal-breaker for me. If you're looking for a waterproof mascara that can handle the elements, this one might not be worth the investment.
Sky High Lash Sensational
Unfortunately, the Lash Sensational Sky High Waterproof Mascara didn't quite hit the mark for me. It clumped together when I came into contact with water, which was a major disappointment. Additionally, throughout the day, the mascara flaked off, leaving small black specks under my eyes. This made me feel self-conscious and I found myself constantly checking my reflection to make sure my mascara hadn't smudged.
dagne dover duffel bag
If you are someone who goes to the gym a lot or needs a bag to toss in the car, you may love the Dagne Dover duffel. I purchased it to use for travel, and it is NOT travel friendly.
Products I Love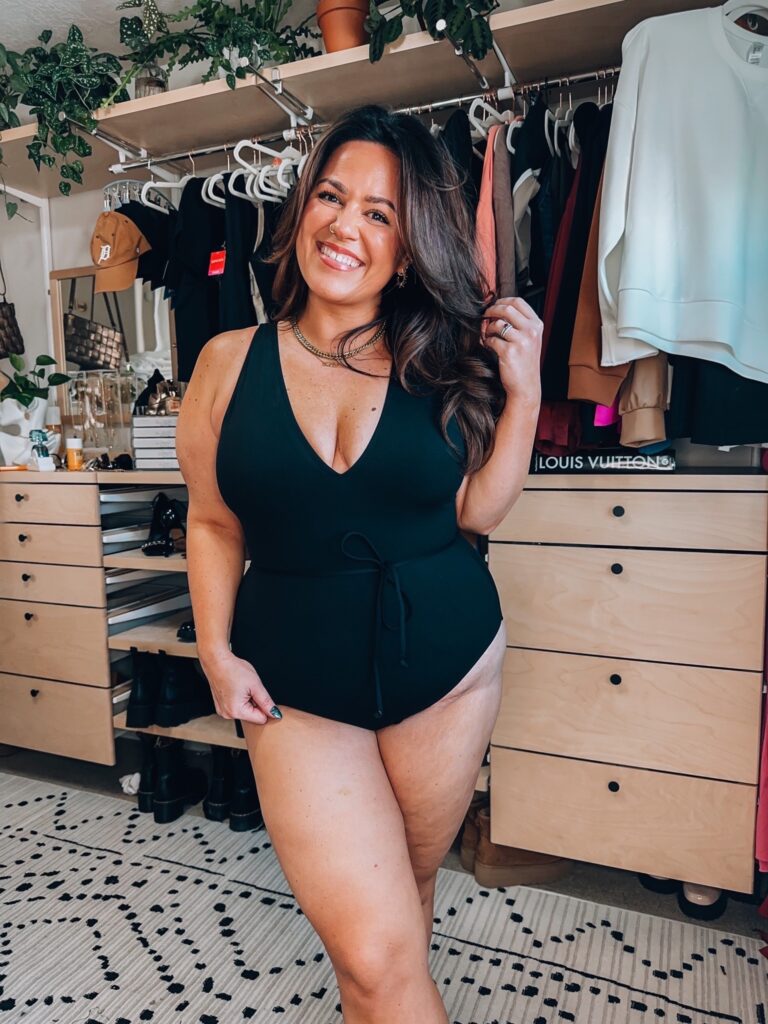 TA3 SWIMSUITS
TA3 Swim is a swimwear brand that was created to provide women with the confidence they deserve in a swimsuit. Founder and fashion designer, who has dressed some of the biggest celebrities in the world, noticed that we tend to wear shapewear under our clothes but settle for flimsy and shapeless swimsuits when we're most exposed. This inspired her to spend almost three years perfecting a waterproof swimsuit that provides support and sculpts the body. TA3 Swim's swimsuits are not only designed to provide shape, but they are also affordable. While I don't think you need to spend over $100 on a swimsuit to feel your most confident, I do believe the quality of TA3 Swim's swimsuits makes them totally worth the purchase.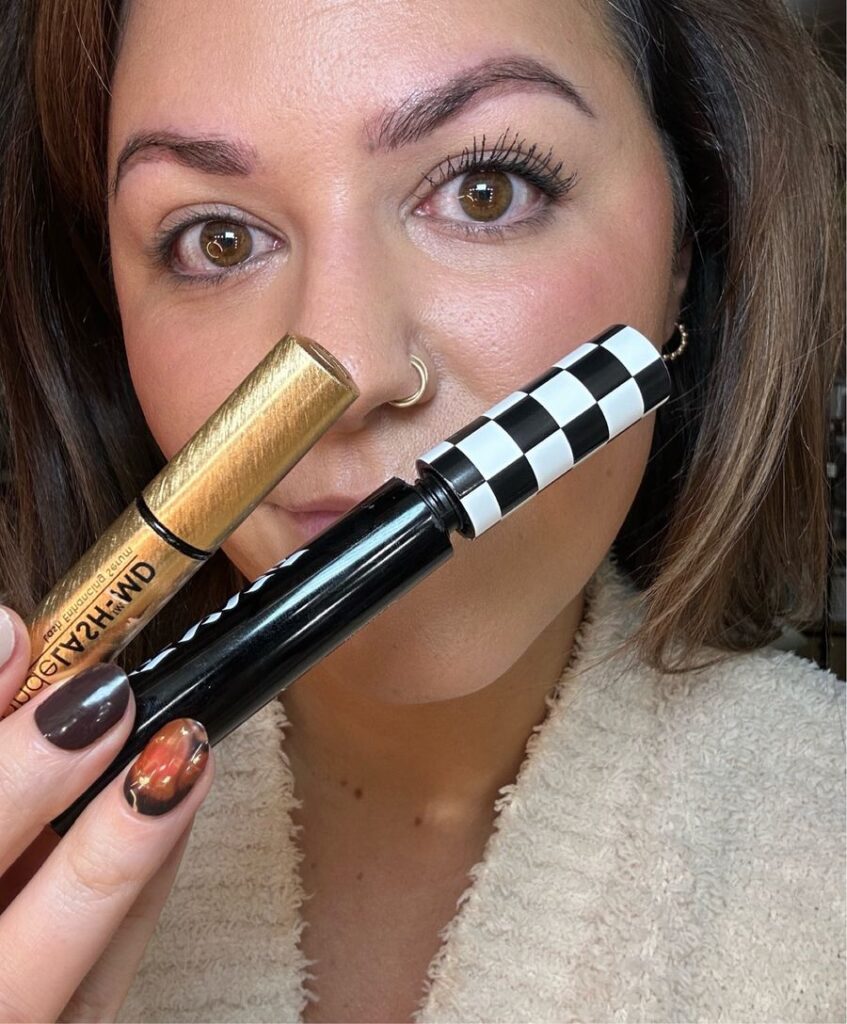 GXVE MASCARA
Gwen Stefani really outdid herself with this mascara from her GXVE Beauty line! When I tell you this ish is bananas, B-A-N-A-N-A-S, I mean it in the best way possible. It stays on, doesn't transfer, and leaves my lashes looking incredible.
Grande lash serum
On the topic of lashes, I am absolutely blown away by the Grande Lash Serum. For the longest time, I would apply false lashes to get the long and full look I desired. At the beginning of 2023, I decided to take some time away and allow my lashes to "rest"! Now, I don't see the point in going back to falsies. This lash serum coupled with the GXVE Mascara is all I need in life. Plus, I have a code for 15% off the serum! Use code TARYNTRULY!
lancome waterproof mascara
I didn't realize this entire blog was going to be centered around my eyelashes, but here we are. I shared all of the waterproof mascaras that just didn't live up to the hype above, so I figured it is probably best to tell you which one did! Lancome Idole Waterproof Mascara is my new go-to when waterproof mascara is a must. Otherwise, catch me in GXVE all day, every day.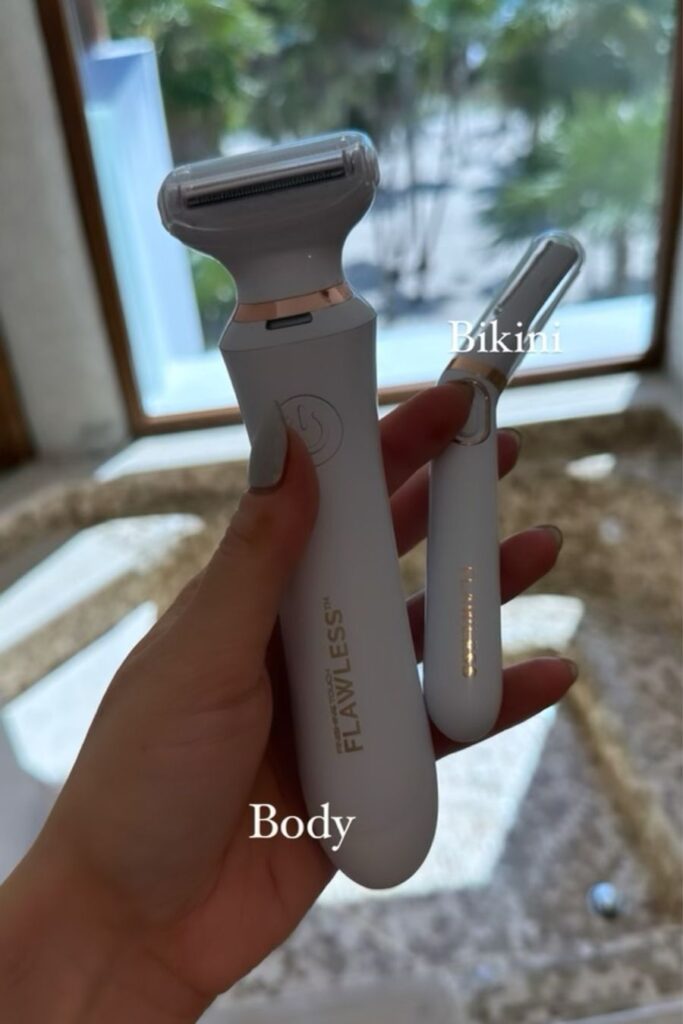 Dry electric razor
A trip to Mexico had me searching for an easy hair removal solution because you will NOT catch me getting a wax – no, thank you. I grabbed these Flawless Finishing razors from Amazon, and they were a game-changer! Perfect for a quick touch-up each morning before heading to the pool, beach, or wherever our day took us.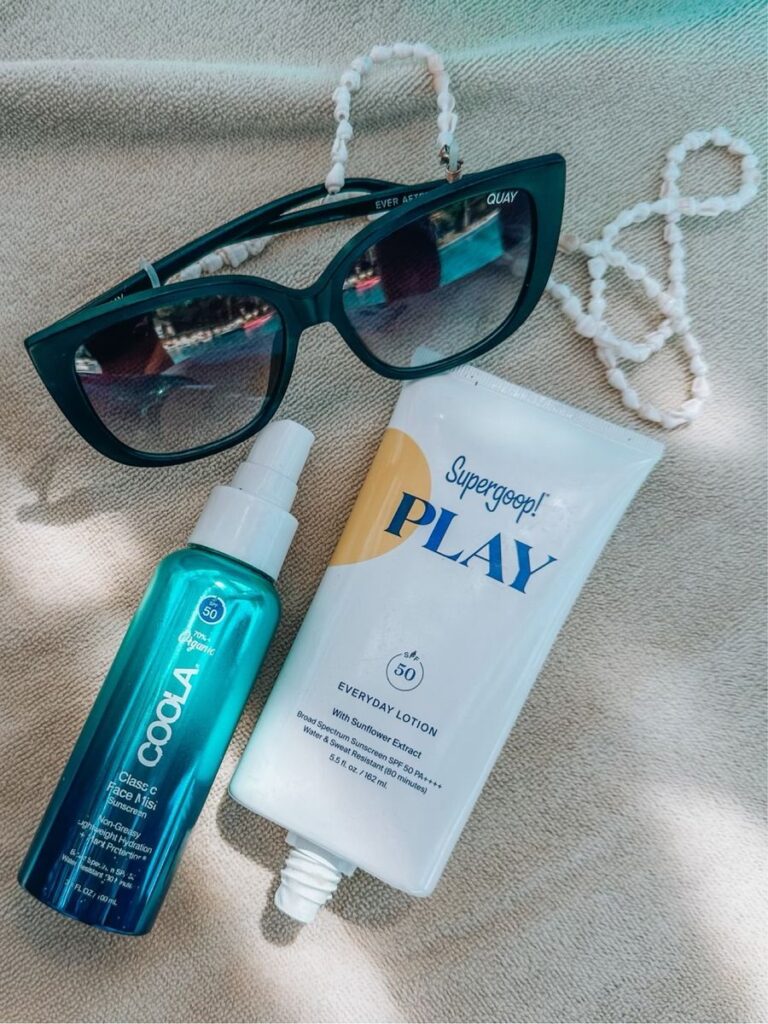 sunscreen
I am a sunscreen QUEEN! After a run with skin cancer, I don't mess around. I am super picky about what sunscreen I use, so you know I mean it when I say these are the only sunscreen products I'll be reaching for this year. For the body, Supergoop does it best. I, personally, love the Glow Screen Body, and AJ likes the Play! For the face, we both love the Coola SPF 50 in the blue bottle.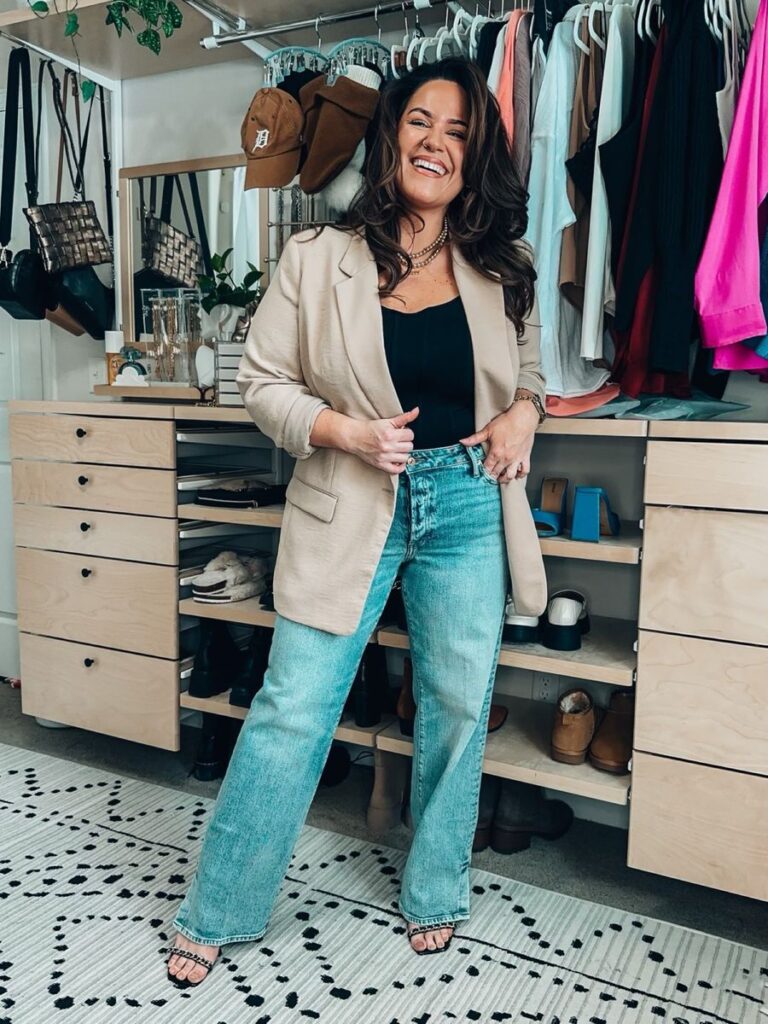 Express blazer + wide-leg jeans
If you've been a follower for a while, you know I love a good Express haul. February's haul really showed up and showed off. For starters, this cinched blazer is an absolute dream. I ordered it in an XL, and it fits perfectly. The best part? It has an adjustable cinch option on the back of the blazer so you can really accentuate your waist like the hot girl you are! Pair this blazer with a cute top or bodysuit and THESE jeans – a DREAM! Seriously, I am blown away by the fit and look of these jeans. An apple-shaped, midsize girly must-have.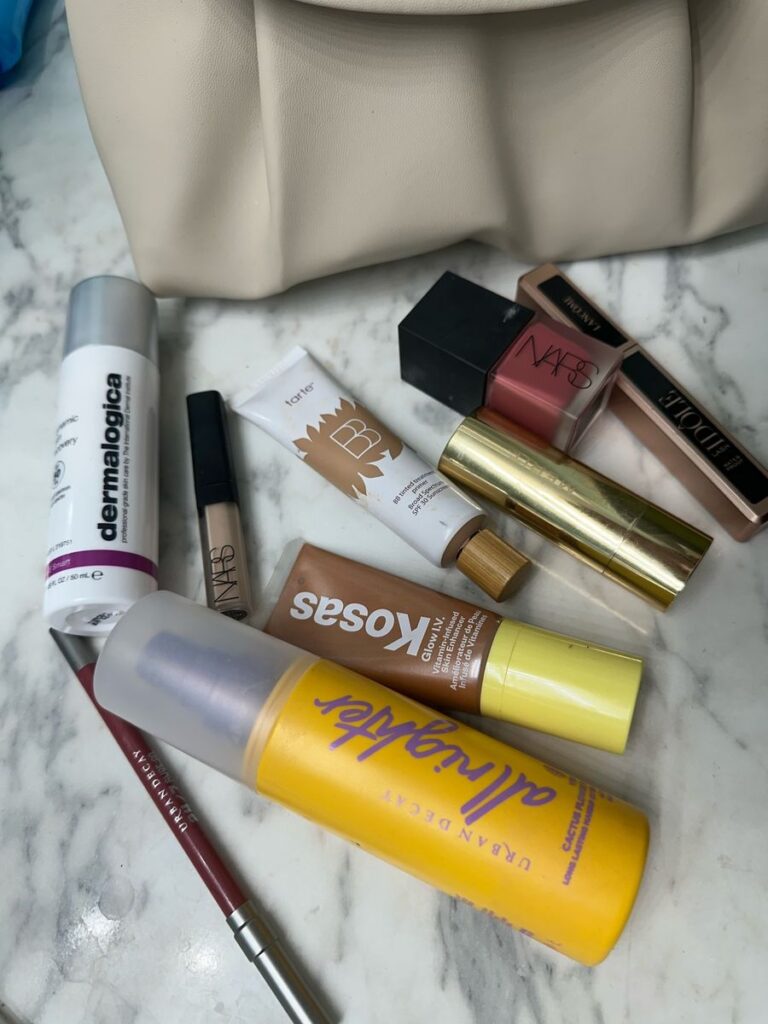 Urban Decay Setting Spray
If you are looking for a product to keep your makeup in place all day or "all night" long, look no further. Urban Decay's All Nighter setting spray in the yellow bottle locked my makeup in and had me glistening like a moisturized tropical goddess from my hotel room to the pool and back! Speaking of makeup, gotta throw a quick recommendation in here for the Tarte BB Cream. It was my most-worn face makeup on vacay, and I will definitely be repurchasing when I run out.
Tangle Teezer Hair Brush
If you're looking for a hairbrush that can tackle the toughest tangles, look no further than the Tangle Teezer Large Ultimate Detangler Hairbrush. As someone who's struggled with knotty hair all their life, I can confidently say that this brush is a game-changer. Its unique design gently detangles hair without causing any pain or breakage. Plus, its larger size makes it perfect for those with thick or long hair. I can't imagine going back to a regular brush after using the Tangle Teezer – it's that good!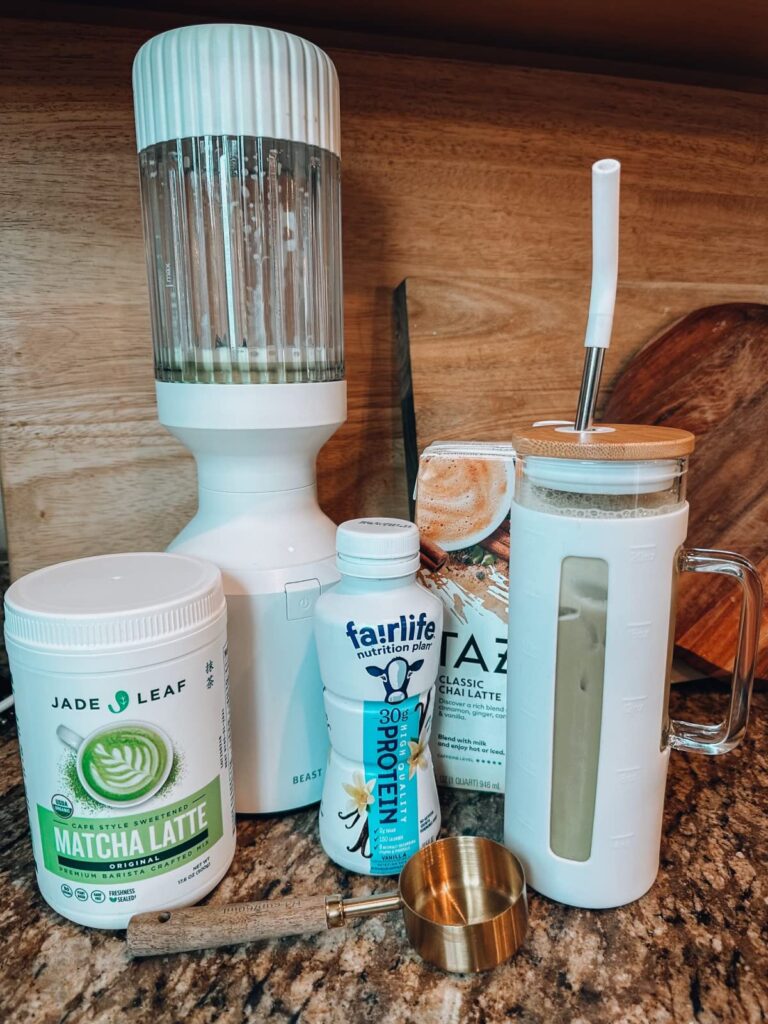 Homemade Matcha Chai Tea
There's nothing quite like a delicious Starbucks drink made at home, and my current obsession is making an iced matcha chai. With the help of a few key products, I'm able to create the perfect cup every time. I start with a high-quality organic matcha powder like the one I found on Amazon and a protein shake for the base. Next, I mix in a fragrant chai spice blend, which adds a rich and warming flavor to the tea. Finally, I use this blender to blend everything together, creating a smooth and creamy texture that's pure bliss. With these amazing products, I can enjoy a delicious and comforting cup of matcha chai anytime I want, right in the comfort of my own home.
Random Amazon Products I Loved
These elastic belts are perfect for cropping an oversized sweatshirt.
Wearing this 1111 necklace daily!
Super cute and affordable platform sandals for spring and summer.
The coziest lounge set is available in a few color options!
Obsessed with this neutral tote bag for under $25!
From mascara to matcha tea and everything in between, I've shared my thoughts on what's worth the hype and what's not. And now, it's your turn. If you tried new products you love or don't love in February and March and want to weigh in, drop your thoughts below. I'm always looking for something new to put to the Taryn Truly Test, so bring on the recommendations!