Woo hoo, it's 2023, babe! My word of the year is intentional (more on this later), and I'm taking that energy and running with it in everything I do. Now, while I'm always super picky about what I share with y'all, I'll admit I haven't been the best about sharing the products that just didn't make the cut for me. But that's all about to change! Starting today, I'm sharing with you all of my top products of 2022 and a few things that just didn't cut it for me in 2022, but won't be making an appearance in 2023 either. And, as an added bonus, I'm committing to making this a monthly blog post so you can stay up to date on all my favorite finds and duds throughout the year!
Top Fashion + Accessories
Shoes
Platform Boots (UGG Look For Less)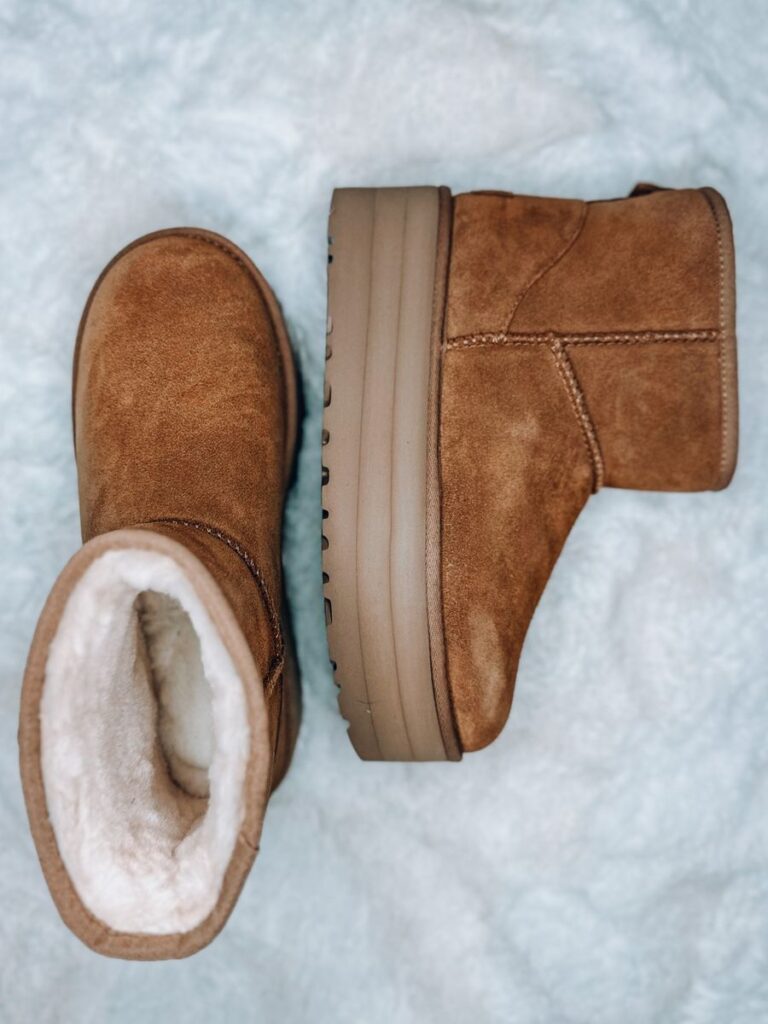 I didn't purchase the UGG Platform Boots until after they were a hot, hot ticket item. I continuously watched for stock to be available and was finally able to grab some from Amazon and was obsessed the moment I put them on, however, I had seen the look-for-less version circulating, so I went ahead and ordered them as well because they are half the price. When I tell you I was SHOOK at the quality. I immediately knew the off-brand option from Amazon was where it's at and what I will definitely be wearing in 2023. However, there is one pair of UGGs that I'm willing to splurge on – the Tazz Slippers. Trust me, they're like walking on clouds and I haven't found a look-for-less option that comes close to the comfort and quality. But act fast, they sell out quickly!
Sizing details for UGG slippers and Amazon look-for-less: if you are between sizes, size up!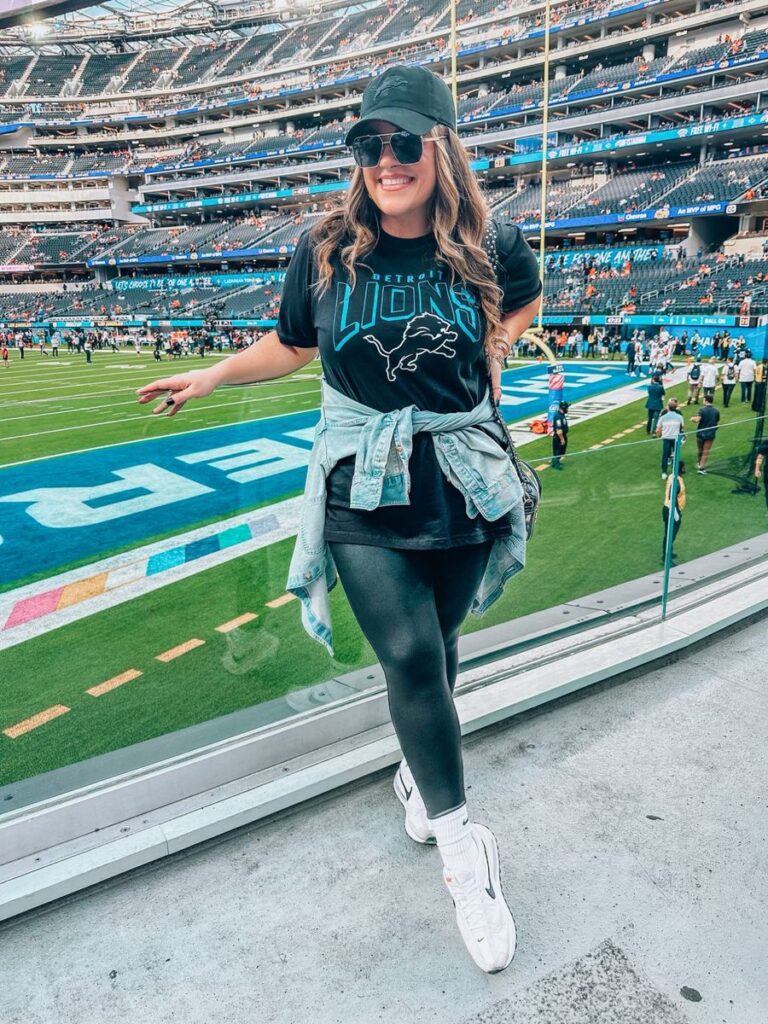 If you haven't followed me for a while, you may not know that I have an addiction to purchasing sneakers. I know, I should talk to someone about it. Fortunately for you, that means I know which sneakers are totally worth it and which totally are not. I have two colors of the Nike Air Max Dawn sneakers (black and white), and to say I am obsessed would be an understatement. So, dang, comfy!

Undergarments
Bras and undies and shapewear, oh my! Finding the best undergarments can be an incredibly overwhelming experience, but I have my tried and true favorites that stayed my favorite in 2022 and I don't plan on replacing them in 2023.
Bras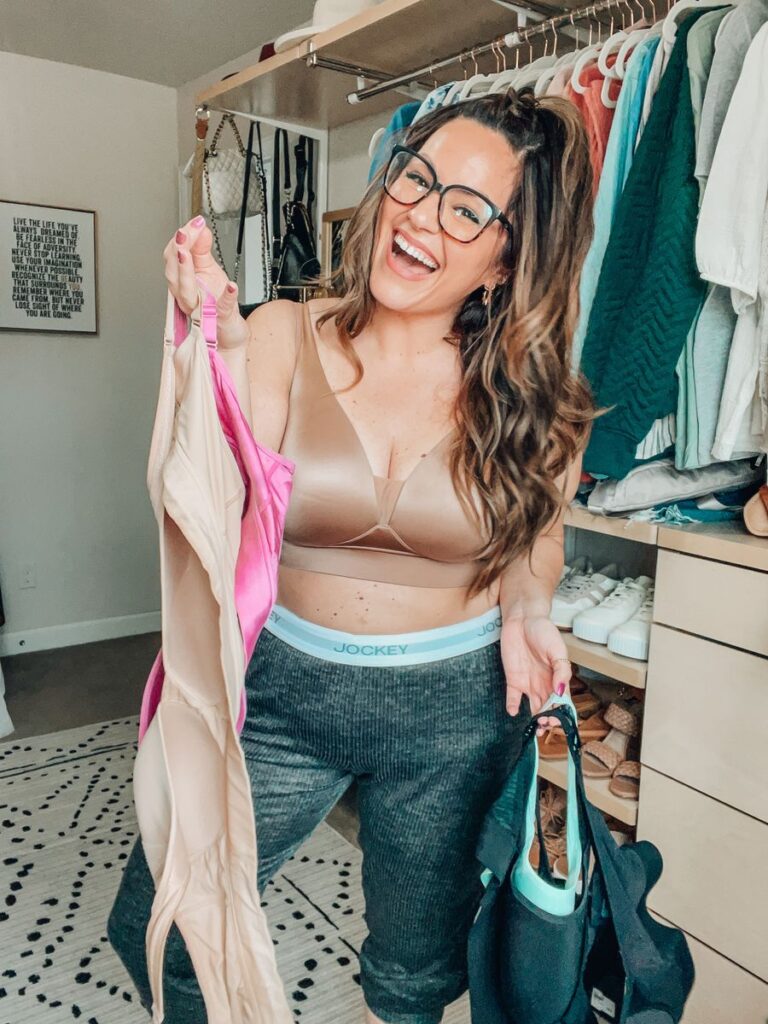 If you're looking for a bra that is comfortable, will hold the girls wonderfully, and maintains quality, you need the Jockey Forever Fit bra. There are several different options from underwire to wire-free, black to nude, and more (use code TARYN20)! If you're currently in the market for a strapless bra that STAYS PUT, you have to trust me when I say Wacoal does it best with the Red Carpet strapless bra. Available to purchase in several places: Amazon, Nordstrom, and Wacoal to name a few!
Undies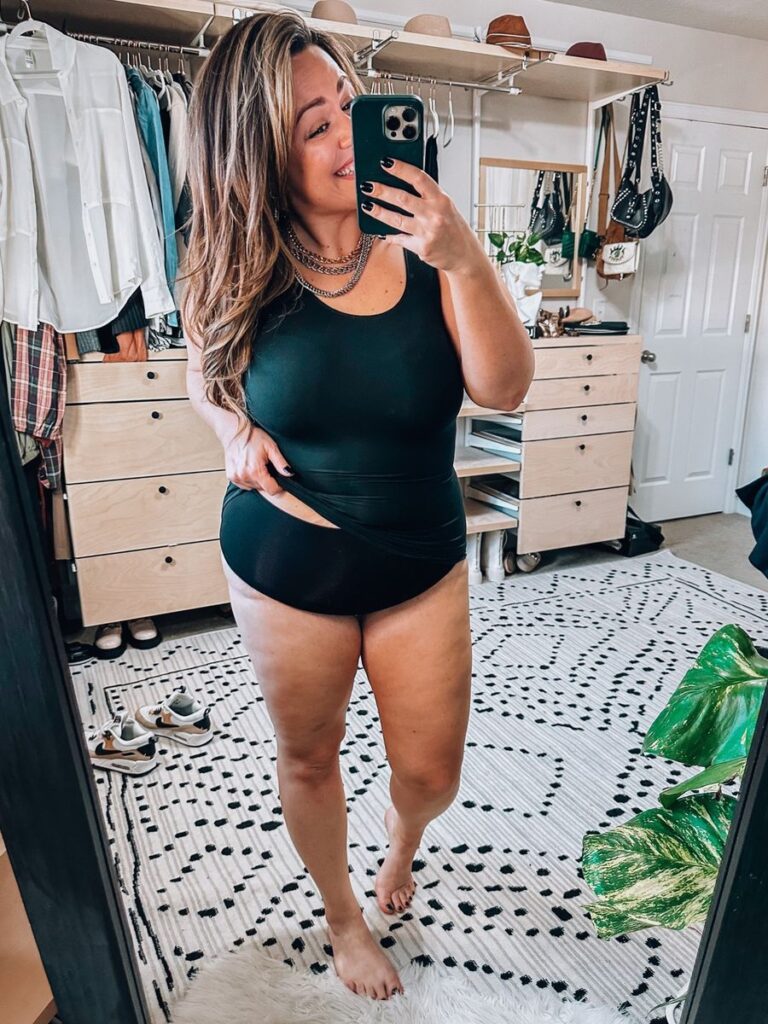 Not to brag, but I definitely found the best underwear of 2022, 2023, and beyond. Spanx knew what they were doing when they created their shaping underwear. They support, smooth, and stay put. I have the Cotton Control Briefs (best for casual, comfortable shaping) and the Everyday Shaping Briefs (best for a more structured smoothing experience)! Plus, if you use code TARYNTRULYXSPANX, you will save 20%!
Spanx sizing reference: I am a size 14 apple body shape, 38DD, and wear an XL in all!
Shapewear
Shapewear is one of those categories I get asked about frequently! While I am always trying out new options, I reach for the Maidenform Romper, Spanx Socialight Tank Top, and Spanx Shorts the most. A great combo is the Socialight Tank and Spanx Shaping Briefs (pictured above)! Don't worry though, I will always update my community if I find a new shapewear option I love. Bonus points: if you struggle with chafing, I cannot recommend my Monistat Chafe Cream enough!

Accessories
I was a major skeptic of Apple Watches for literally ever. I had purchased one for myself when they first came out and just didn't see the point in them. However, I purchased the Series 8 41mm version last year, and now I am not sure how I could live without it. I struggle with setting my phone down, missing a ton of important notifications, and not being able to find said phone, so this Apple Watch has made a world of difference for me and is definitely staying in 2023 (along with this bracelet band under $20).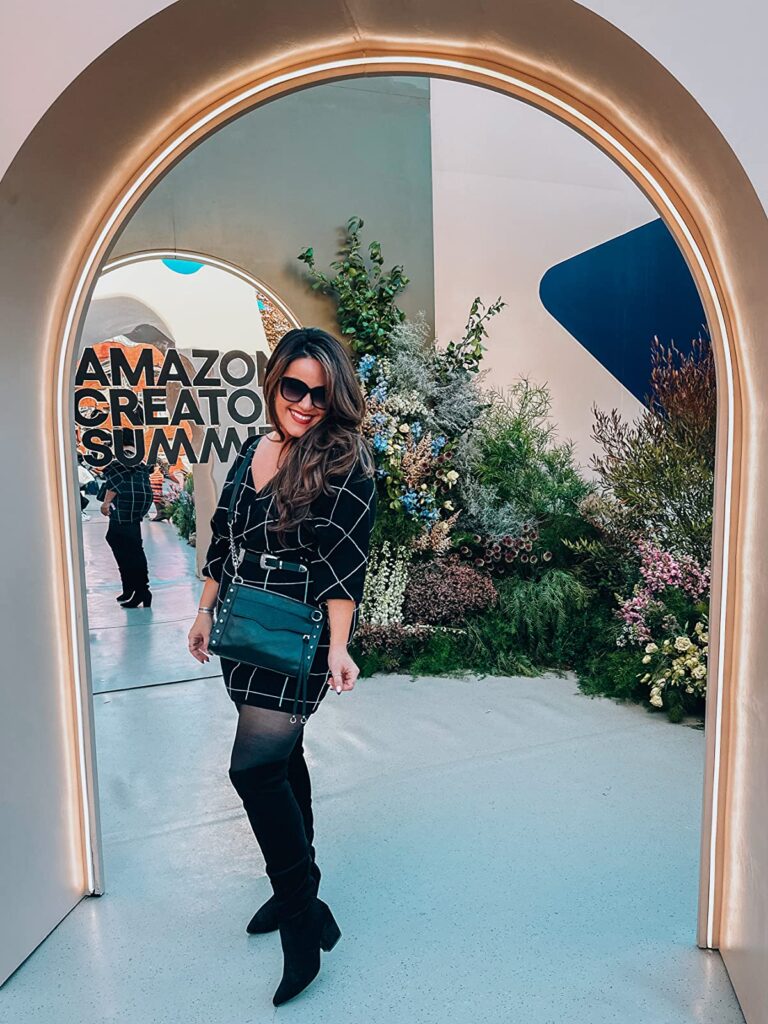 There is one bag I just CANNOT live without. The Rebekah Minkoff M.A.B. crossbody purse is my ride-or-die. I used it all of 2022, and am still choosing to use it over even my more expensive bags. It's a little bit of a splurge but still super affordable and the quality is incredible. I seriously wear this purse with everything, and I will not be stopping anytime soon.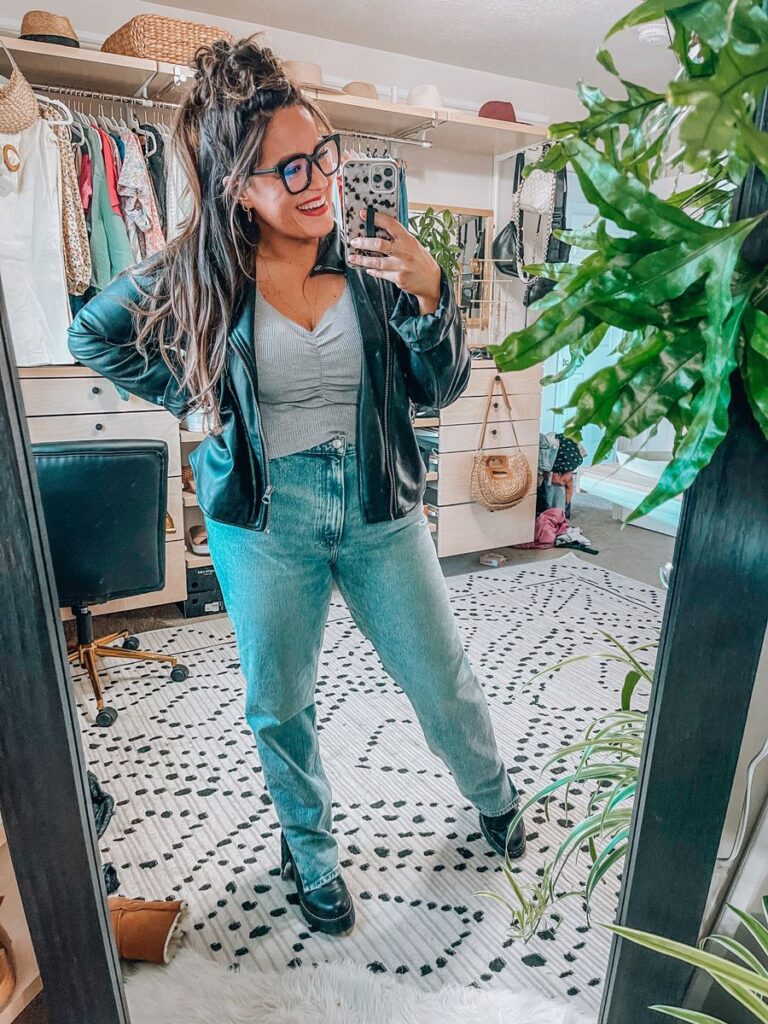 I get asked about my Diff blue light glasses on Instagram all the time. They are on Amazon, have fantastic quality, and match all of my outfits. Definitely will be using these all of 2023.
I purchased new luggage from Amazon in September of 2022, and I am not quite sure how I lived without it before. I have a lot of trips planned this year, so my luggage will be making several appearances. Bonus item, grab this travel charging bank so all of your gadgets stay charged your entire trip.

Denim
Jeans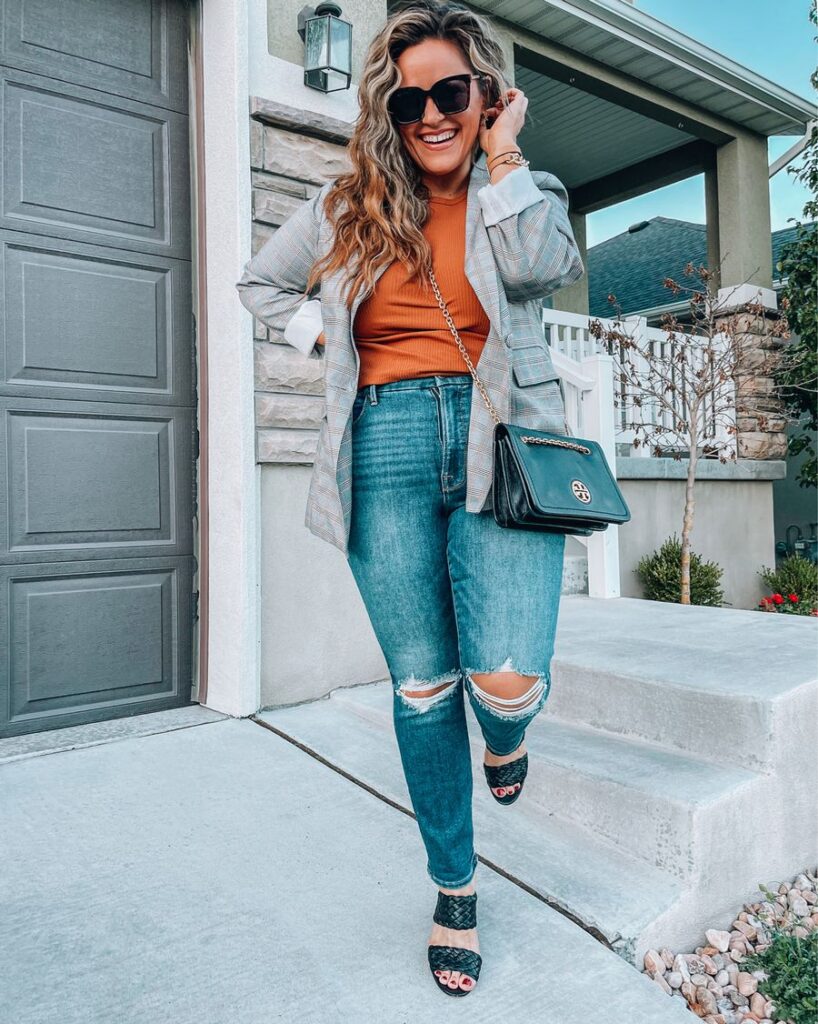 Jeans can be super hard for me to find! While I purchase from several different places, there are two brands I typically purchase new jeans from each season – Abercrombie, Kut From The Kloth, and Good American. I'm sharing a few new styles I am eyeing, but for reference – I am typically a size 32-33S in Abercrombie and a size 14 in Good American and Kut From The Kloth! My favorite styles from Good American are Good Legs, Good Cigarette, and Good Classic! A pair I absolutely DESPISED in 2022? The Levi Wedgie Rib Cage – they were super popular but did not work for my body at all.
Shorts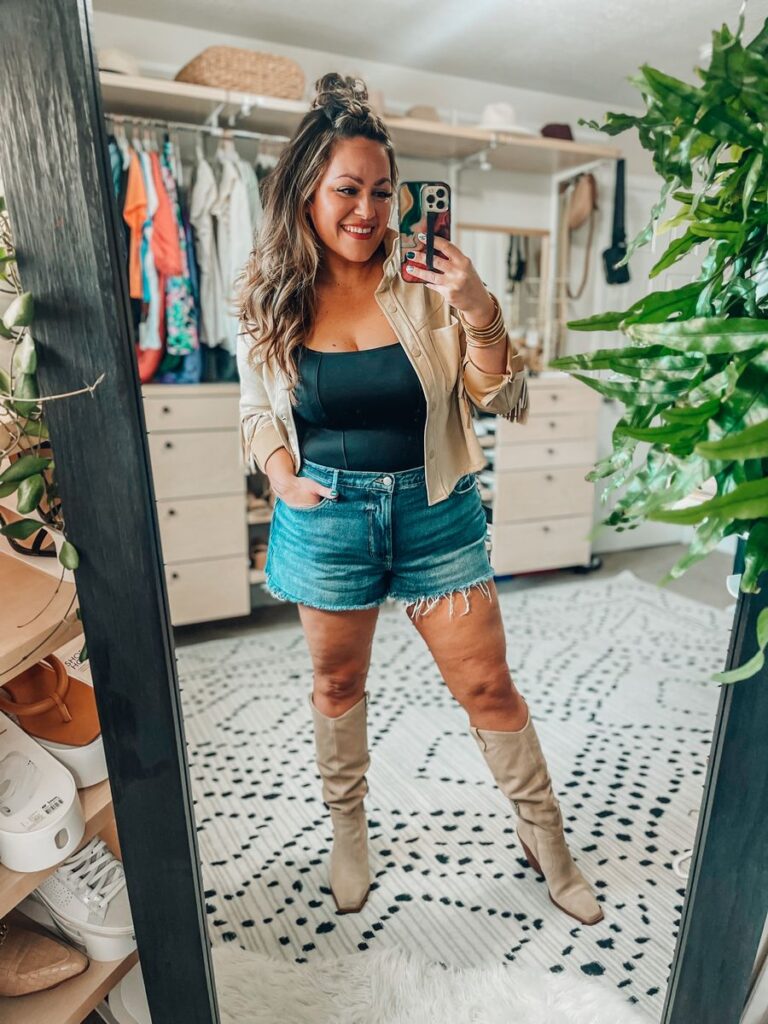 Back to the same three brands – I always try out new styles from Abercrombie and Kut From The Kloth each year and found a pair from Good American that I was SHOCKED by!! Good American sent me their Good 90s Shorts and I LOVE them. I hope they restock more this spring or even come up with more options. For sizing reference, I am wearing a size 15 in the Good American shorts (picture one), a size 33 in the Abercrombie shorts (picture two), and a size 14 in the Kut From The Kloth Shorts as they are roomy (picture three)!

Fave Home + Random Finds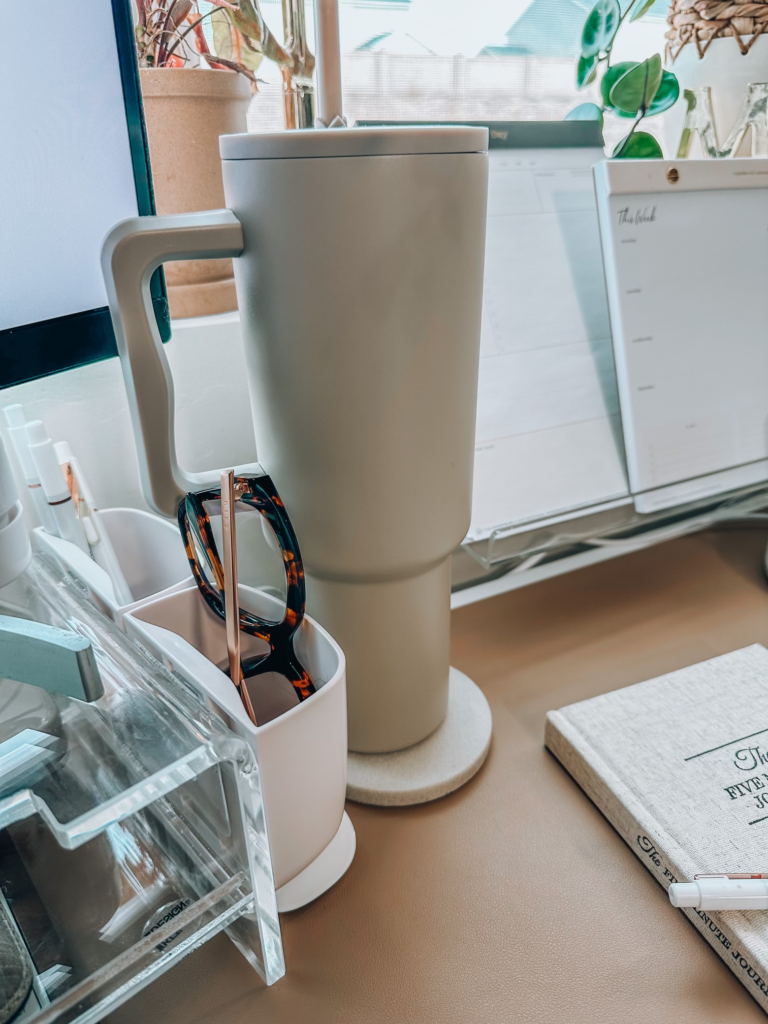 In case you missed it, my friend sent me the Stanley Tumbler for my birthday because I had told her time and time again that I had plenty of tumbler cups just as good as the Stanley that cost less. To say I laughed my butt off when the box showed up at my house is an understatement. While I do love the cup (mostly because it's from her), I would 100% recommend grabbing the Simple Modern Tumbler from Amazon instead. It's $10 less, doesn't leak, and keeps my drinks hot or cold for LONGER than the Stanley. So, I cherish the Stanley, but I'll be reaching for the Simple Modern more in 2023.
My self-care got 100 times better with this heated eye massager. Purchased during Black Friday on a whim, I fell in love immediately and ordered one for my best friend. It is designed to reduce eye strain and improve your sleeping, your naps will thank you later. Here's to better sleep in 2023!
Prebiotic Soda
I said goodbye to Diet Coke and hello to a healthier me! I was hunting for a tasty replacement and found Poppi and Olipop. These sparkly sodas are like bubbles with benefits! They're packed with fruit juice and the magic ingredient, apple cider vinegar, making it the ultimate immunity sidekick. It's like sipping on a soda while giving your body some love. Perfect for my ADHD brain and my taste buds!
Sheets + Pillowcases
Get ready to have the best sleep of your life! I've stocked up on these bamboo sheet sets from Amazon for every bed in my home – they're THAT good! You'll be counting sheep in no time with these cooling sheets, perfect for hot sleepers. Say goodbye to rough and scratchy sheets, these ones are rated highly for softness, comfort, and durability. Seriously, I look forward to climbing into bed every night and will definitely not be switching any time soon. An added bonus? Silk pillowcases! In case you didn't know, silk is known to prevent skin aging and make your hair supple and smooth. I absolutely love this set from Amazon.
This 16-piece set is everyday dinnerware I'm never embarrassed by. With a speckled design and sturdy stoneware, it is casual enough to use for family meals, yet contemporary enough to use when entertaining guests. Plus, it's super easy to take care of – microwave and dishwasher-safe all the way! And if (fingers crossed it doesn't happen) one piece does break, you better believe I'll be stocking up in 2023.
Nespresso + Accessories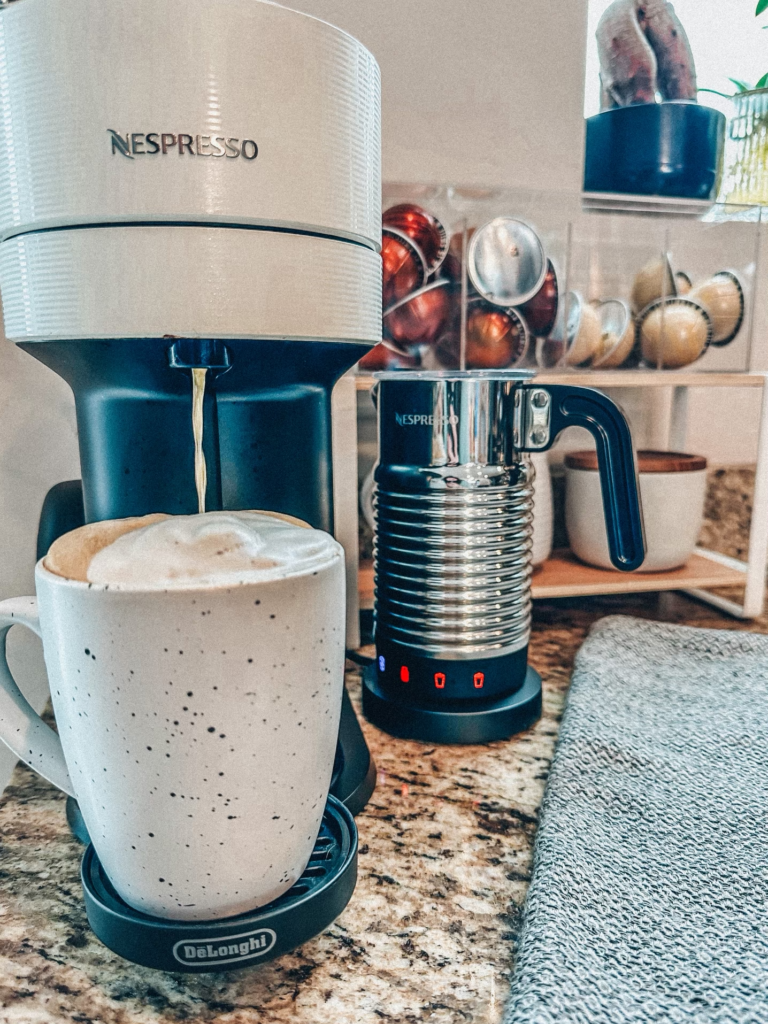 I gave up Diet Coke because I couldn't hand over my daily coffee (currently limited to two cups a day) from my Nespresso. I've been loyal to this coffee maker for years and am not switching up my caffeine provider anytime soon. Plus, with my trusty milk steamer and pod organizer, I've got the ultimate morning coffee setup. Oh, and let's not forget my new fave coffee accessory – a mug warmer that turns on and off like magic, keeping my coffee at the perfect temp for sipping all day long.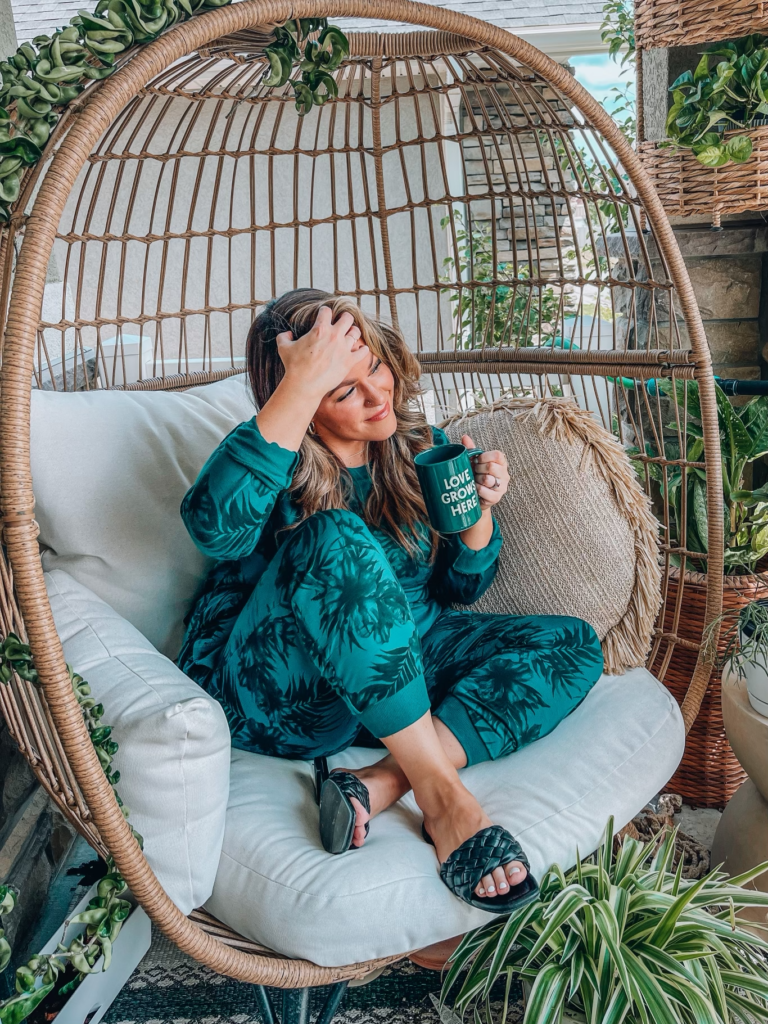 Patiently (wink, wink) waiting for warmer weather so I can climb into this egg chair and enjoy my plants on the front porch. Looking forward to a lot more time spent with my plants and the outdoors in 2023.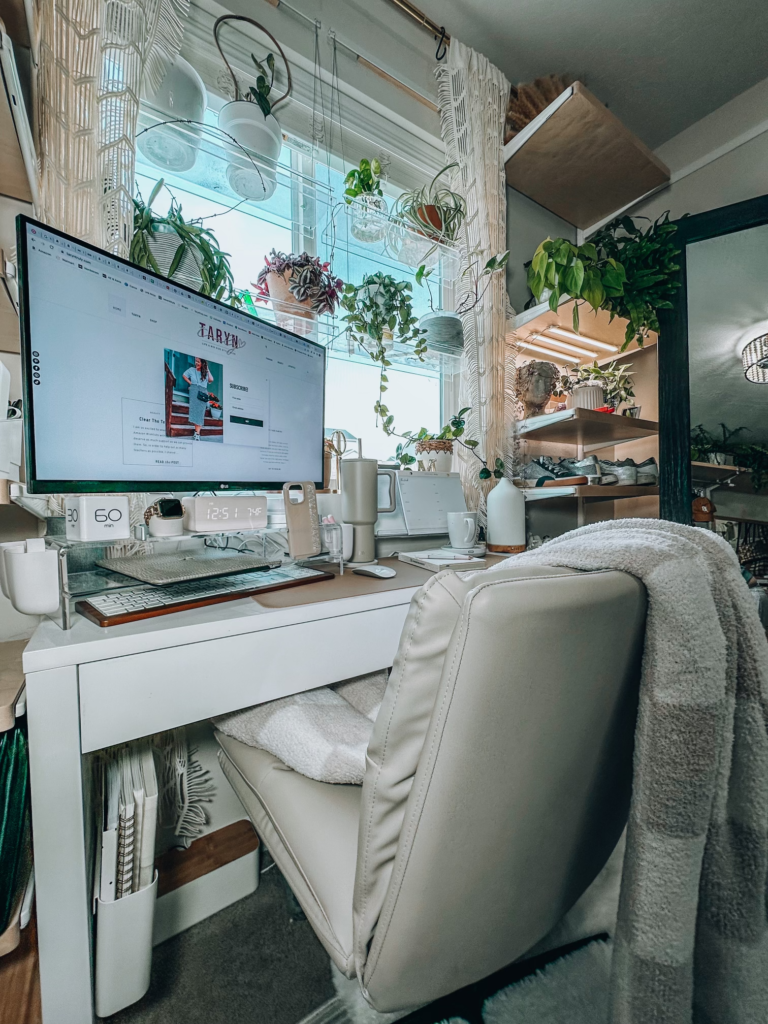 I wasn't sure how these were going to work out, but I ordered them because my plants need more sun, and I need them in my home. These shelves look absolutely gorgeous in my office and made my plant-loving heart more than happy. Now, to convince my husband we need them in every room!

Top Beauty + Self-Care
Hair Care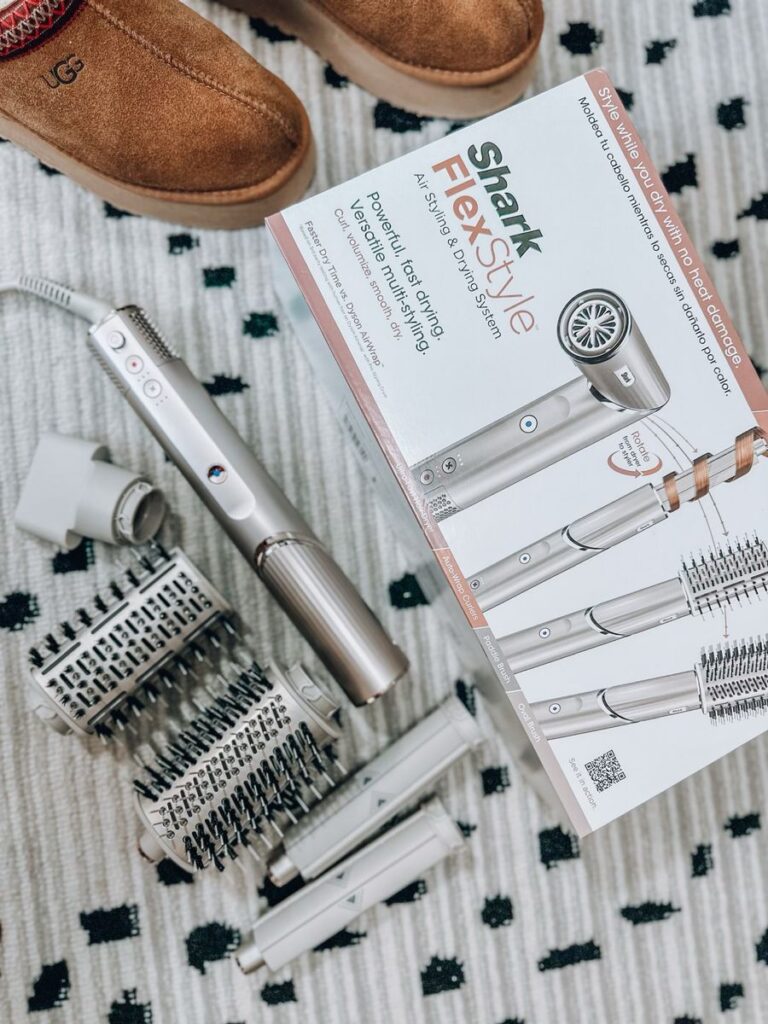 I was wrapped in the Dyson Airwrap craze and ordered one to test out for my community. While I did enjoy the Airwrap, I stumbled across the Shark Flexstyle when it was first released and knew I had to grab it for *research*! When I tell you the Shark Flexstyle outdoes the Dyson Airwrap in a million ways, I am not telling a fib. The Flexstyle is half the price, has a prettier design, and gets the job done better than the Airwrap. Both are a splurge, but the Flexstyle is 100% worth it and will be a top-used styling tool of mine this year.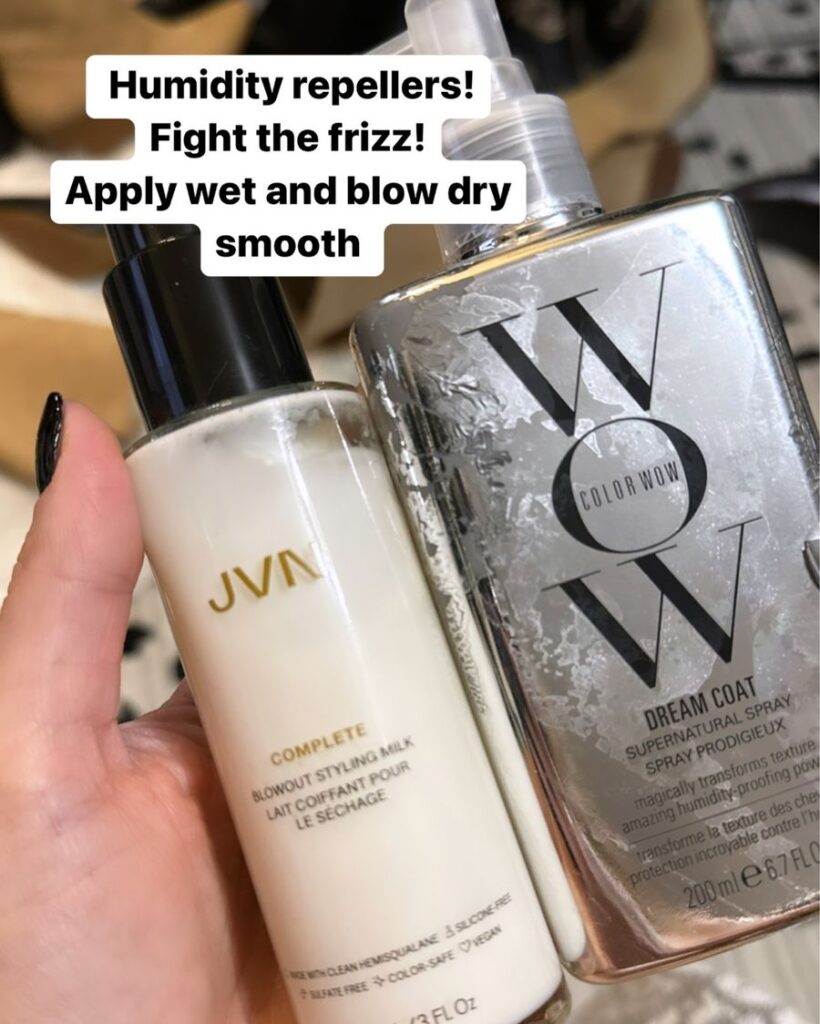 I am convinced, there will never be a styling product better than the JVN Styling Milk. I just apply it to my hair before blowdrying and it holds my style for days and protects again frizz and heat damage leaving my hair smooth all day long.
With a lot of hair comes a lot of responsibility (aka frizz control)! I have struggled with keeping my hair frizz-free for years. If humidity strikes, it looks like I have been struck by lightning. However, the Color Wow has been a game-changer. Color Wow also protects your hair from heat damage and leaves it shiny for days! I use every three washes and will not be stopping anytime soon.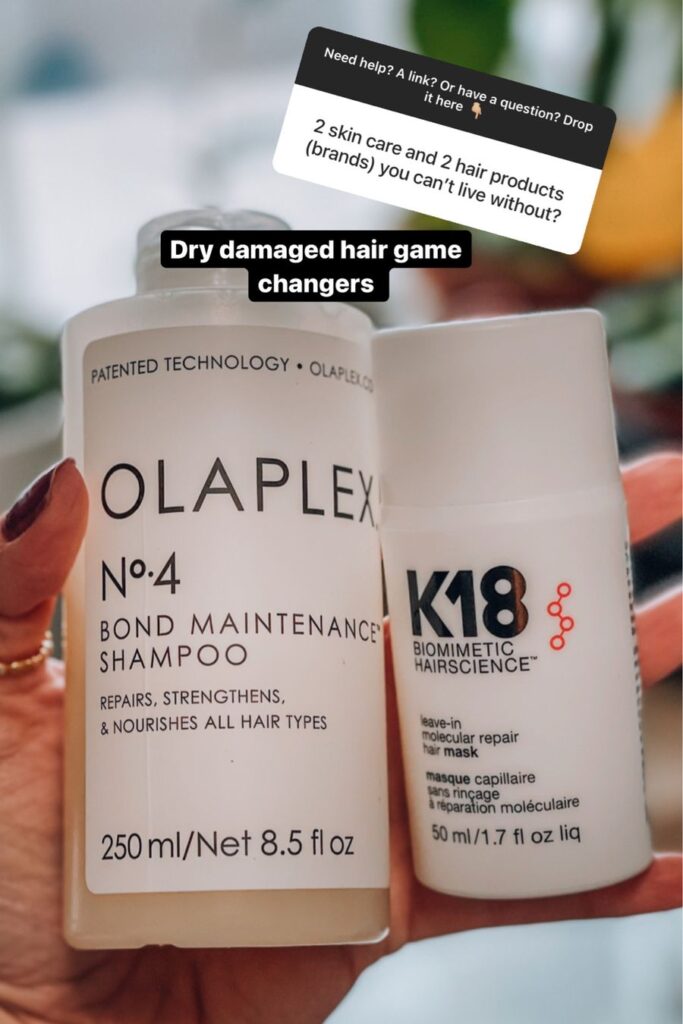 I made a big whoops and overused a protein hair product which ended up causing my hair to dry out and snap. I was desperate to find a solution and looked into the different options. After reading about introducing clarifying shampoos to remove protein build-up, I tried this Olaplex Clarifying Shampoo! I still use protein products like my ride or dies K18 Leave-in Mask or Olaplex Bond Maintenance but maybe once a month and I make sure to clarify my hair once a month too! Gamechanger!

Skincare + Makeup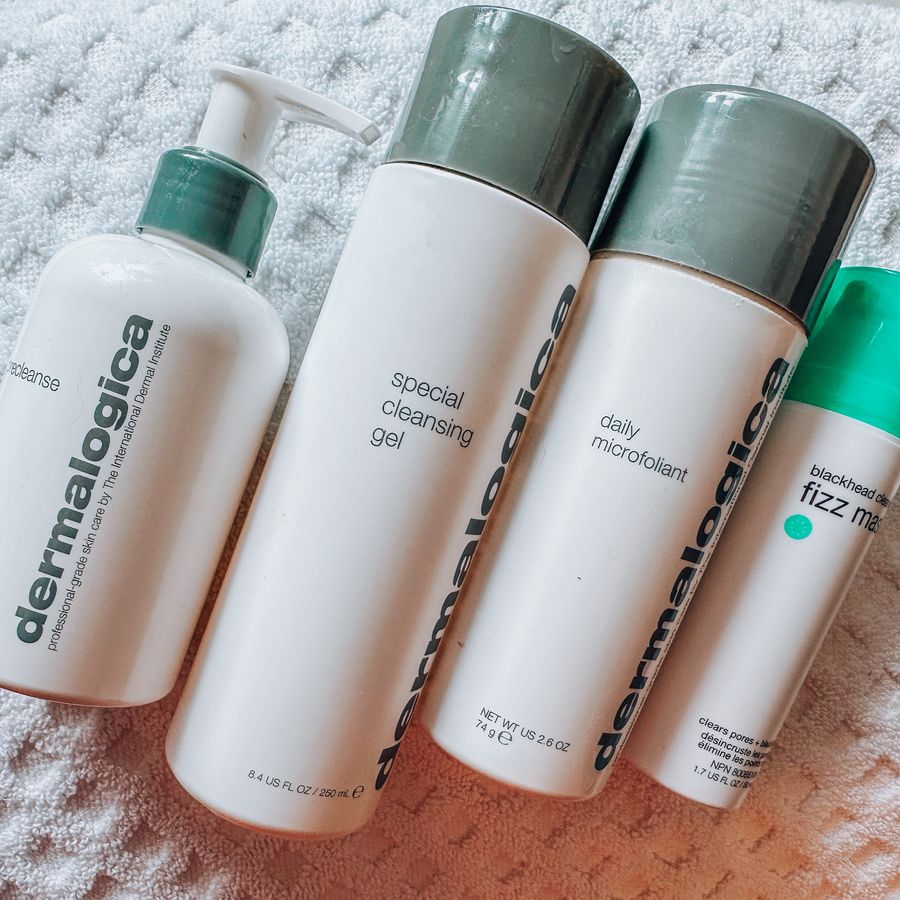 Dermalogica's skincare line is one I truly want to gatekeep but will not because it's just too good not to share. However, if the Blackhead Clearing Fizz Mask ends up out of stock, I will be kicking myself because I'm not quite sure how to live without it! Also, their SPF and cleansing set are staples in my skincare routine. Overall, Dermalogica has taken over my bathroom, and I'm not mad about it.
The Glow Recipe ended up viral on TikTok (see why I want to gatekeep?) and for good reason. Their Watermelon Glow Niacinamide Dew Drops give you exactly what the name says – a glow. I grabbed the kit that also includes their Watermelon Glow PHA + BHA Pore-Tight Toner which I also love!
I was struggling with really dry skin (thank you constant heater running everywhere), so I did what I do best and started researching the best body wash for irritated and dry skin. CeraVe was listed everywhere and supported by professionals. It's affordable, available almost anywhere, and has completely changed my skin in the short amount of time I have used it.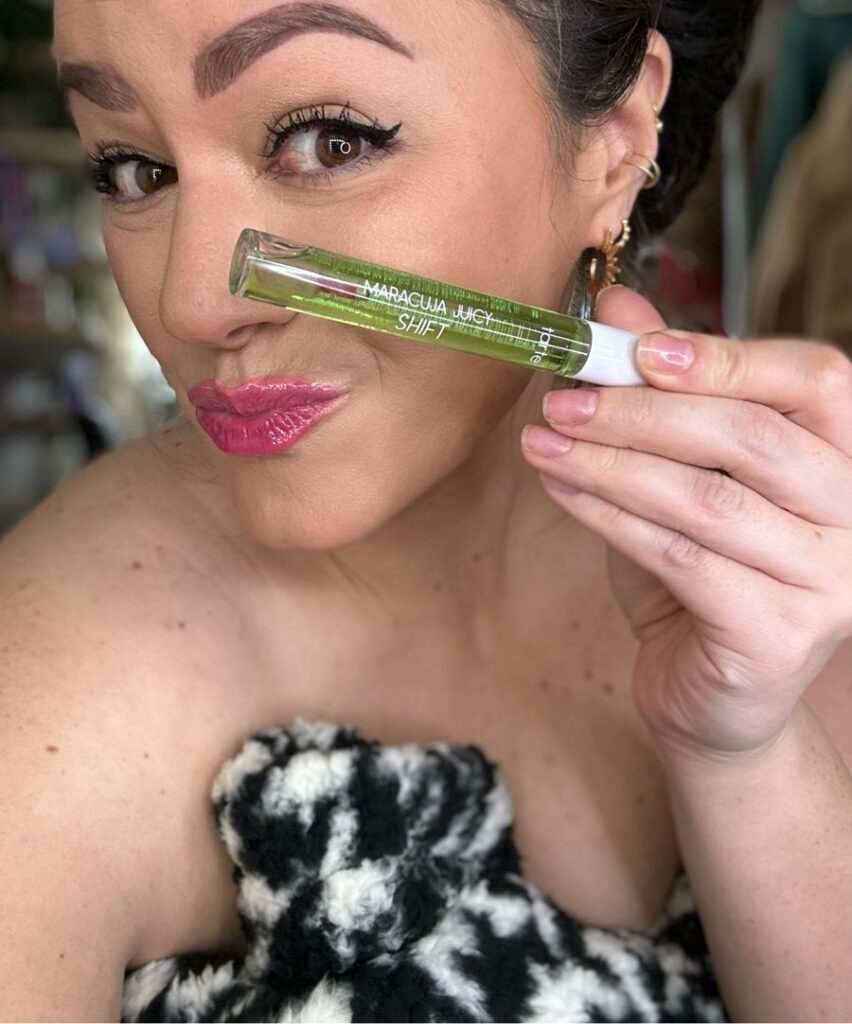 This was a last-minute 2022 find I am sad wasn't released sooner! Tarte's maracuja juicy lip & cheek shift is not only incredibly moisturizing but changes to the best color based on your ph levels – how cool, right?! Cannot wait to use it all of 2023. Use code TARYN to save 15%!
I was thinking about the Milk Hydro Primer when making my list of things I loved and didn't love in 2022 (spoiler: did not love the viral Milk Hydro Primer), and while doing so, I remembered just how much I love the Huda Beauty Glowish Primer. Where the Milk Hydro Primer had my makeup sheathing off, the Glowish Primer sets me up all day long with a glowing and radiant makeup finish.

Self-Care Finds
Eye Drops
I'm sure it comes with the job of staring at a screen a lot of my day, but I have struggled with irritated and dry eyes that end up causing my eyes to water. After speaking with my doctor, I found out it was due to my eyes not producing enough of certain oil eyes are supposed to produce (sorry, medical terms are lost on me). However, my doctor gave me a sample of the Systane Eye Drops and after using it just one time, I hopped on Amazon to stock up!!!
Sol De Janeiro
While the Bum Bum cream may be what Sol De Janeiro is famous for, I fell in love with their Brazilian Crush Perfume Mist and Rio Deo Aluminum-Free Deodorant!! If you want to smell like an island but not in an overpowering way, Sol De Janeiro does it best. These products were perfect for me in the summer of 2022, and will definitely be back in the summer of 2023.
Shower Steamers
An Amazon find I have on recurring delivery is the Body Restore Shower Steamers. I just toss one of the Calm steamers into the shower when I step in for a relaxing spa-like experience. I especially love these when it's just been one of those days. If you struggle with congestion, grab the Relief steamers! They have Eucalyptus in them which helps to open those sinuses right up.
Self-Tanner
I have found two self-tanning options I cannot and will not live without after testing out several different brands! You will definitely find me reaching for the St. Tropez bronzing mousse before any event, vacation, or swimsuit try-on (lol). This mousse gives me a deep tan that lasts for days and leaves me looking like a bronzed goddess. For all other times (yes, I mean literally any other day of the year), I apply Bondi Sand's gradual tanning lotion. It's hydrating and helps me keep a light tan, especially during the sunless hellscape that is Utah in the winter.
Bonus points: I use the Isle of Paradise drops in dark for my face! Easy to add to any moisturizer. One thing I will not be using to prep for swimsuit season? The Kenzzi IPL device. I used the Kenzzi twice and it never worked again. I'll be sticking to my trusty razor – thanks, but no thanks, Kenzzi.

Brands I'm Shopping This Year
Amazon | Nordstrom | Aerie | Target | Spanx | Sephora | Ulta | Pink Lily | Express | Abercrombie | Walmart | Wayfair | JCPenney | Kohl's
Brands I'm Keeping My Eye On
ASOS | Lulus | Boohoo | Shopbop | Anthropologie | Free People | Urban Outfitters | Fabletics | Girlfriend Collective | Good American | Skims | H+M
Brands I Plan On Avoiding
Shein – you'll never catch me supporting them!
Altar'd State – not for the curvy girls.
Old Navy – super disappointed with their sizing accuracy this past year. If you think I should give them another try, let me know below!
So, there you have it! A comprehensive list of the top products I will definitely be using and brands I will be shopping all of 2023 and a few products I can definitely live without. Are there any items you grabbed in 2022 that you wish you would've found sooner?! Let me know below. I would love to try them out for myself!