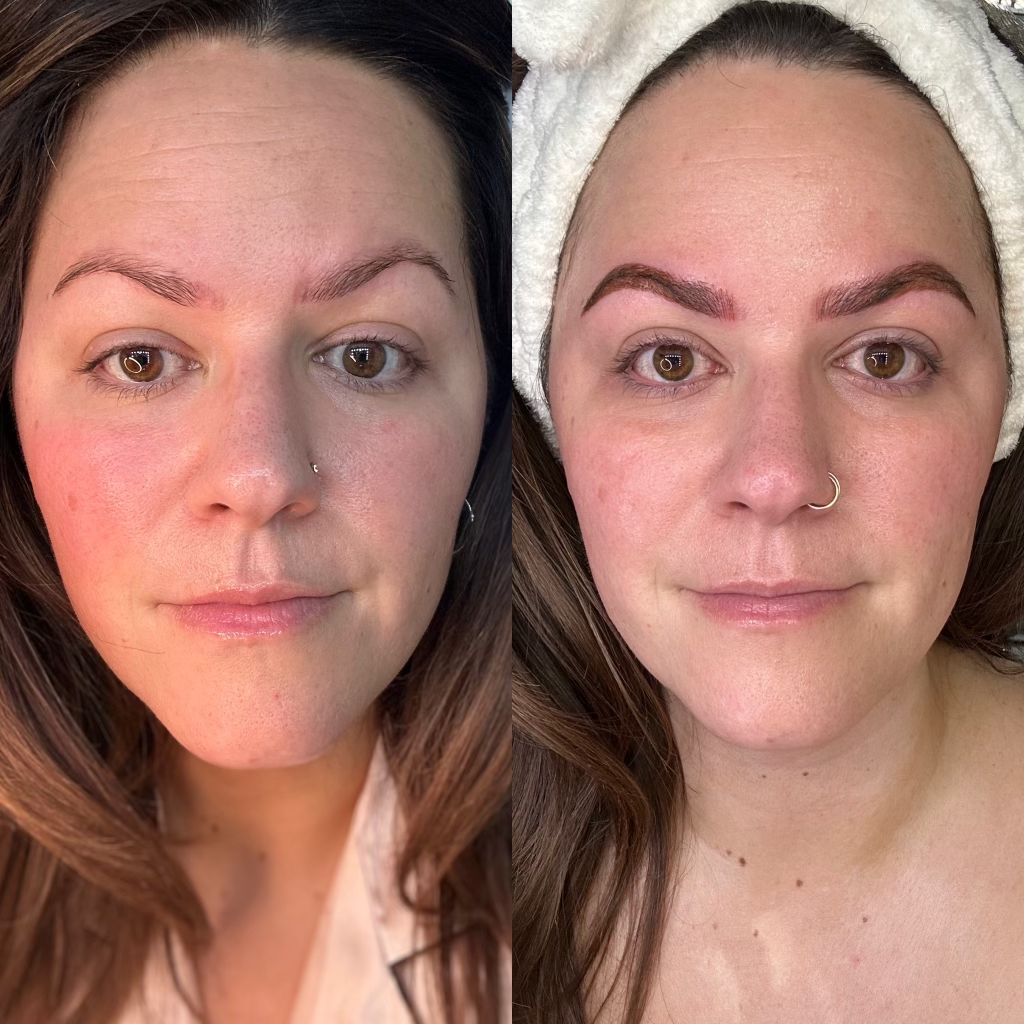 I hope you're ready for this, because I am about to shake up your skin care routine! This is probably the most requested post to date since I shared in stories. I've been trying new things with my skin! You've been commenting on my videos asking me if I had Botox or filler done? And I didn't put it all together as to why you thought I looked so refreshed until I compared these side by side pics. I started a new skincare routine and it was 100% influenced by tok tok. What does tik tok not influence me to do?
Introducing skin cycling, the latest buzz in the skin care world and TikTok is buzzing with it, too! I was inspired by none other than the dermatologist Dr. Whitney Bowe on TikTok. This unique approach involves giving your skin some much-needed "rest days" to rejuvenate and recover. I have personally seen amazing results with my skin in just 3 weeks and I can't wait to share my routine with you along with the products I'm using.
I'm not a skin care expert, but I have been on a journey to improve my skin. Experimenting with different products, techniques, and routines has led me to finally find what works best for me. And the best part? I already had the products I needed, I just needed to reorganize them into a skin cycling routine. I'm grateful for the time I took to figure out what works for my skin because before I started this I was lost and doing my skincare was a guessing game. If you are just getting started on your skincare journey, it is important to start at the beginning and not dive in to all of the following products immediately.
Focus on finding the right face wash and moisturizer first. You want to start with the basics. Once you have those essentials down, you can start adding in other products like an exfoliator, retinol, serums, etc. Gradually adding each product one at a time allows you to easily identify which product may be causing skin irritation, if any.
ABOUT MY SKIN:
My skin has been changing as I approach 40. I am currently 37, and some of the things I've been noticing include dry skin with lots of texture (especially my nose was always crusty and flakey)! I know now she was screaming from over exfoliation and disruption of the skin barrier. I lost a lot of the luminosity I had in my 20's and winkles are really starting to make a home on my face – forehead, undereye, smile lines. I have noticed a loss of firmness and bounce back in my skin, sagging or jowls and large pores. Those are the key points that have changed for me. I will say almost all of my pain points have improved in 3 weeks with this routine which is mind blowing. Normally it takes about 6 weeks to start to see the impact of a consistant skincare routine!
Disclaimer: I've had no cosmetic work, Botox, filler, facials etc. For transparency, I did just get my eyebrows micro-bladed but that is the only professional service I've had done to my face!
My Skin Cycling Routine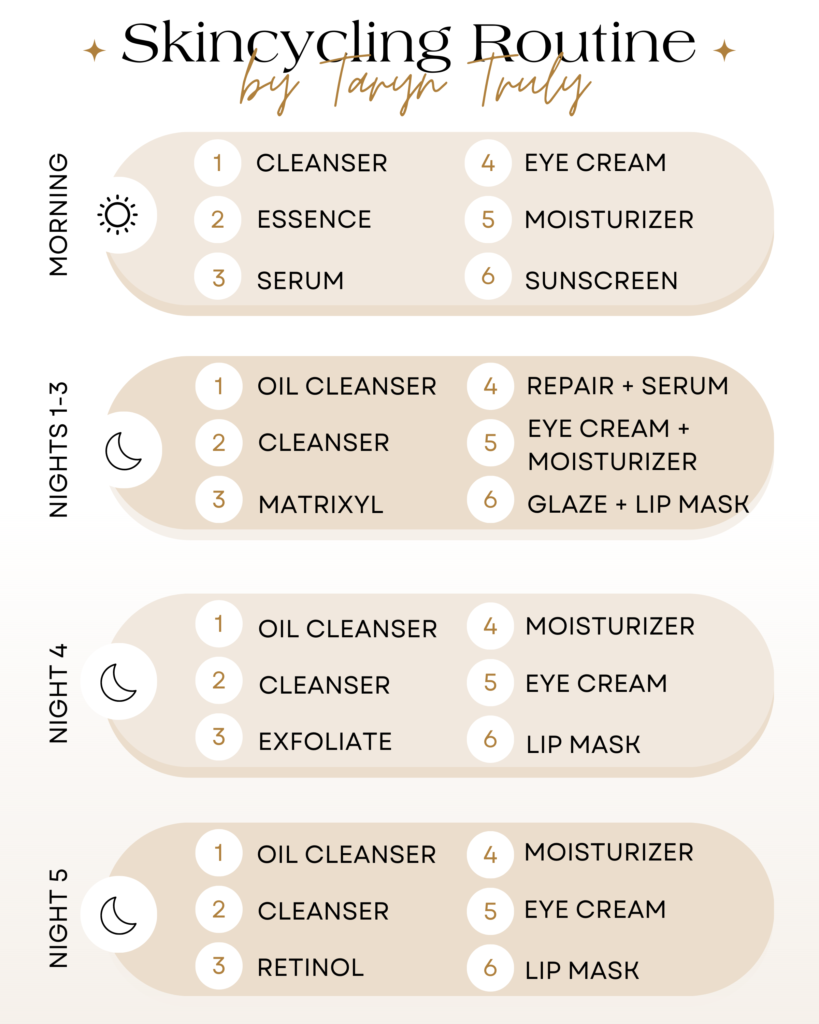 As you can see above, my skin cycling routine consists of 5-day rotations. After night five, I start the cycle over again – hence, skin cycling. When I first started, my skin was broken, damaged, and irritated (my skin barrier was disrupted and a mess from over exfoliation and lack of hydration). This part is key! So, I began my repairing my skin with pure hydration. I did the nights 1-3 routine for a period of about 5 days before moving into exfoliating. It's important to make sure your skin is fully repaired before adding any potentially irritating products, like exfoliators.. So, if you are like me – start by repairing your skin with pure hydration and only move onto the exfoliation step once you feel as though your skin has been repaired.
The best part about skin cycling is that you can always add another night of pure hydration as needed. You don't only have to do three nights. However, you should only ever do one night of exfoliation and one night of retinol before moving back to hydration. I am planning on adding in extra retinol nights and eventually use my derm prescribed trentinoin a few more nights as I am further along this journey. I'll update once I get there.
Morning Routine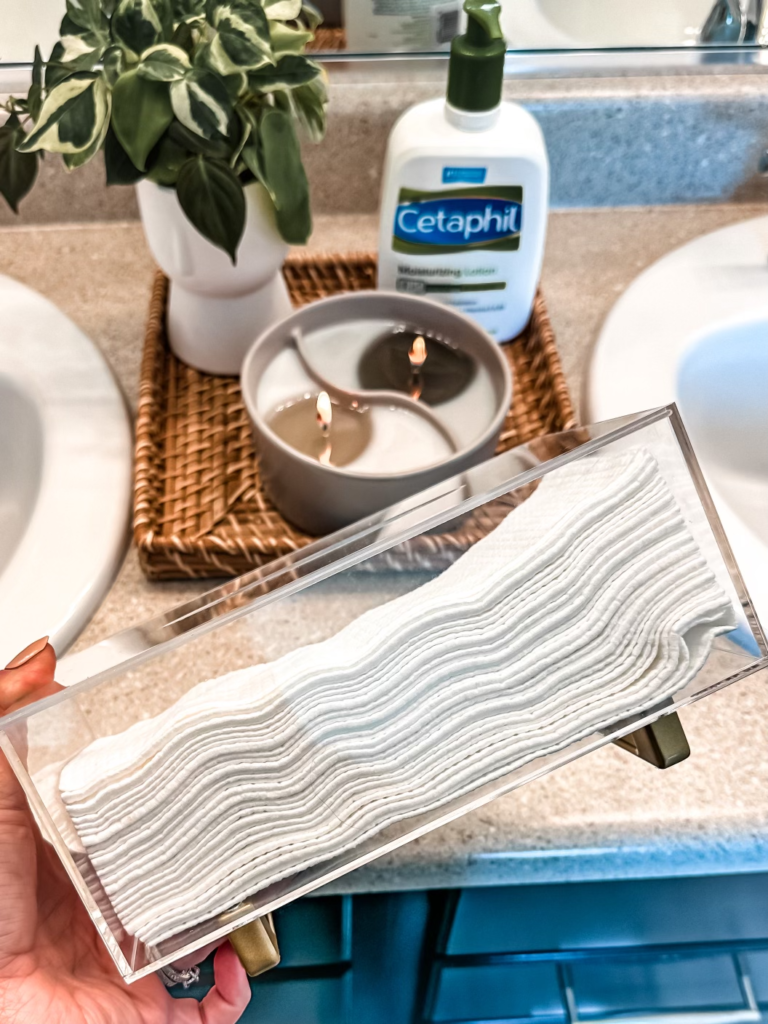 My morning routine stays consistent and does not change. Don't forget your neck, ears and décolletage!
Step One: I always start with a cleanser – though, you may choose not to depending on if your skin falls on the dryer side. My skin is on the dry side especially in the winter so my preferred cleanser and one I can absolutely not live without is the Dermalogica Special Cleansing Gel. Once I've cleansed my face, I pat it dry with these disposable and biodegradable towels from Amazon! TIP: if your cleanser is making your skin feel tight and zapped of moisture try something new, it might be too harsh and drying. Here is another derm-recommended option for dry winter skin!
Step Two: Next, I apply an essence – my preferred being the Advanced Snail 96 Mucin Power. Always let your essence and serum soak in before applying your next product or it will not work well at all. Why I love this? you need to not think about what it actually is and think of it as a multivitamin for your skin. This powerful essense brightens, hydrates, plumps and is great for aging skin.
Step Three: After I have allowed the essence to soak in, I apply a Vitamin C serum. I found the 10% Waterless Vitamin C Serum by Farmacy Beauty to be the best, most potent option that I don't have to worry about refrigerating. Why is vitamin c important? its really a powerhouse skincare product! Helps to slow early skin aging, prevent sun damage, and improve the appearance of wrinkles, dark spots, and acne. Affordable vitamin c option I would recommend is The Ordinary's.
Step Four: Again, after allowing the serum to absorb, I focus on my eyes by applying the Charlotte Tilbury Magic Eye Rescue brightening and hydrating eye cream. For the record, I have NEVER found an eye cream that i felt helped anything. But this is so hydrating and i can visibly tell a difference when I don't use it.
Step Five + Six: To finish off my morning routine, I apply a moisturizer with SPF (do not skip out on the sunscreen especially since you are spending all this time trying to help you skin it's all pointless if you don't protect your skin from further damage!!). I prefer the Dermalogica Dynamic Skin Recovery SPF50 because it is 2 steps in one. Though, you can use a moisturizer that does not include SPF and just add your choice of SPF afterwards. For a budget-friendly option, check out this sunscreen moisturizer from E.l.f.! Tip: do not just count on your makeup as the spf. I double up if my foundation has SPF in it. It is better to have too much than not enough.
Repair & Hydrate Nighttime Routine (Nights 1 – 3)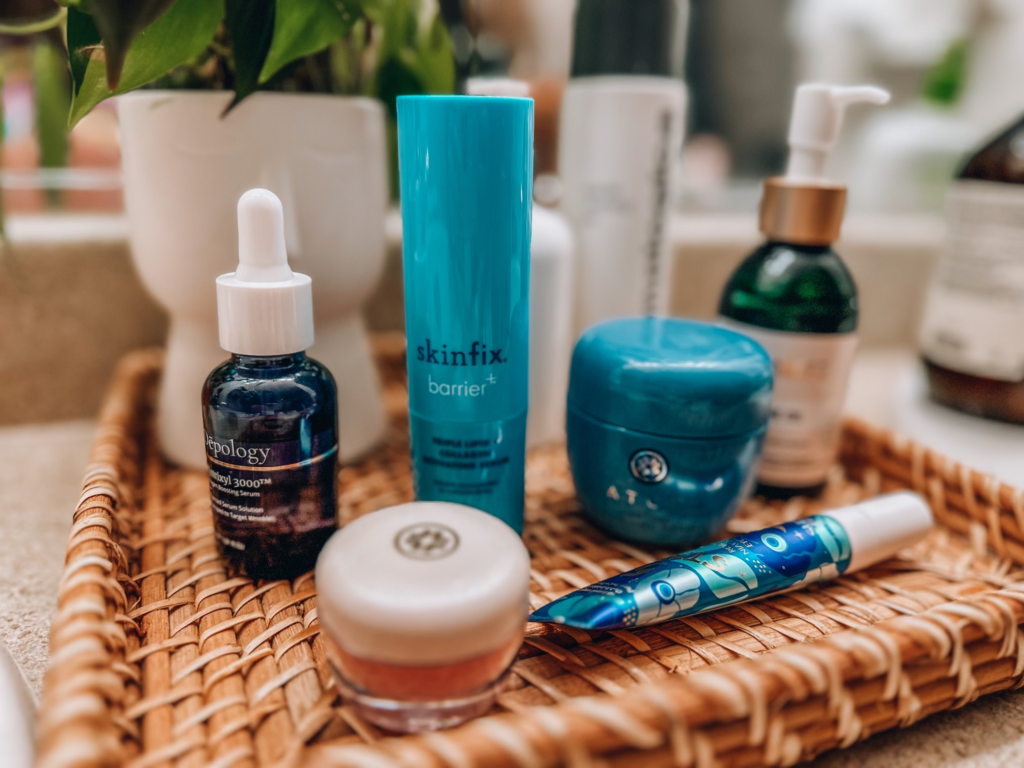 These first three nights are key to repairing your skin. Consider these your "rest & repair" days.
Step One: I begin by removing all of the dirt, grime, and makeup with my favorite oil cleanser from Dermalogica. Use by dispensing the product into dry hands and massage over a dry face. Then, wet your hands and continue massaging the product into a lather. Finally, rinse the product off with lukewarm water. Here is an affordable option with great reviews!
Step Two: Next, I reach for my favorite cleanser from Dermalogica. Yes, it's the same one I use in the morning. I am truly obsessed. Once I've fully rinsed my face and patted it dry, I move onto step three. Affordable option linked here!
Step Three: My newest secret weapon that I promise you is like Botox in a bottle. Depology's Matrixyl 3000 Collagen Boosting Serum has changed the areas on around my eyes and on my forehead helping to decrease the appearance of fine lines. Back to absorbing – do not move on until this serum has absorbed. I found this product on TikTok and ran – did not walk to purchase after seeing this video. For an affordable Matrixyl product option, check out this one from The Ordinary.
Step Four: Now, for the barrier repair & hydration! Keep in mind – I allow each of these products to absorb before moving to the next (I know, I know – you probably get it by this point, but just in case)! I start with the Skinfix Barrier+ Triple Lipid + Collagen + Niacinamide Activating Serum by massaging it into my face and neck ( skin barrier repair we love to see it) . Next, I apply liquid gold – Tatcha's Indigo Overnight Repair Cream (here is an affordable option with great reviews)! Finally, I apply a glaze of 100% Squalane Oil from Biossance. The Ordinary also makes a great 100% Squalane Oil option that is only $10!
Step Five: I apply Sunday Riley's 5 Stars Retinol + Niacinamide Eye Serum (the only product with retinol in it, but my eyes need it, okay!!!) by gently massaging around the occpictal bone. I have seen a huge difference since I introduced this product to my routine.
Step Six: Don't forget the lips! I have had my container of Tatcha's Kissu Lip Mask for the better part of a year now. I absolutely will not use any other lip mask after being spoiled by Tatcha's.
Exfoliation Nighttime Skin Cycling Routine (Night 4)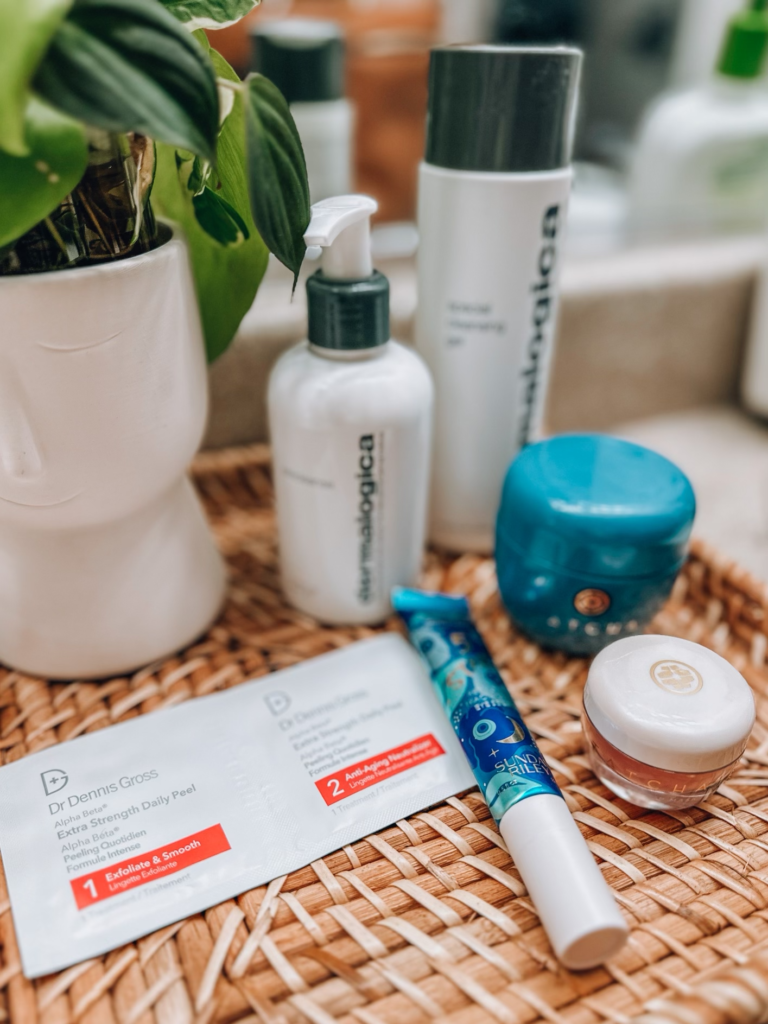 If your skin is repaired and fully-hydrated after three days of pure hydration, you're all set to move onto night four – exfoliation night. The only step that changes? Step three. On exfoliation night, you will skip the Matrixyl and grab your favorite exfoliator. I prefer Dr. Dennis Gross' Alpha Beta® Universal Daily Peel Pads! I love that the directions on how to use these pads are extremely clear, they are easy to travel with as needed, and you won't over use a product that could cause irritation if used incorrectly. Another more budget-friendly option for peel pads are the E.l.f. Skin Superbrighten Peel Pads or Paula's Choice 2% BHA Liquid Exfoliant! Notice when I say exfoliation I am not using a scrub or a device to exfoliate. let the acids do the work gently for you! If you notice burning or stinging while using an exfoliating product- abort mission and try something new. That is a red flag to try something more gentle.
Retinol Nighttime Skin Cycling Routine (Night 5)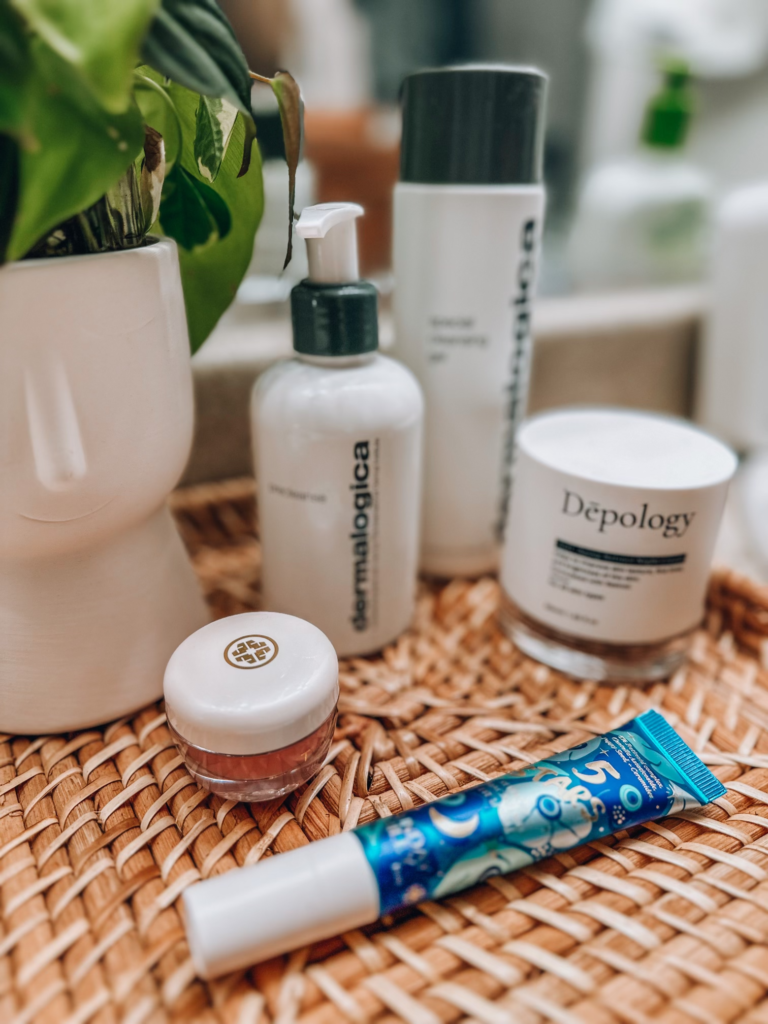 On night five (or whichever night comes after exfoliation night for you), you will trade out the Matrixyl in step three for your favorite retinol product. I recently found Depology's Anti-Aging Retinol Night Cream, and I am not looking back. Why is this brand not talked about more? It's a powerhouse! I love having the retinol and the moisturizer in one step for simplicity. However, if you aren't using a retinol cream, don't skip the moisturizing step. Finding a retinol product that works best for you is incredibly important, so if you already have one you use and love, don't feel like you need to change to Depology's. I came across E.l.f.'s SKIN Youth Boosting Advanced Night Retinoid Serum for only $22 if you are looking for an option that is a little more affordable.
Most Recent Picture Of My Skin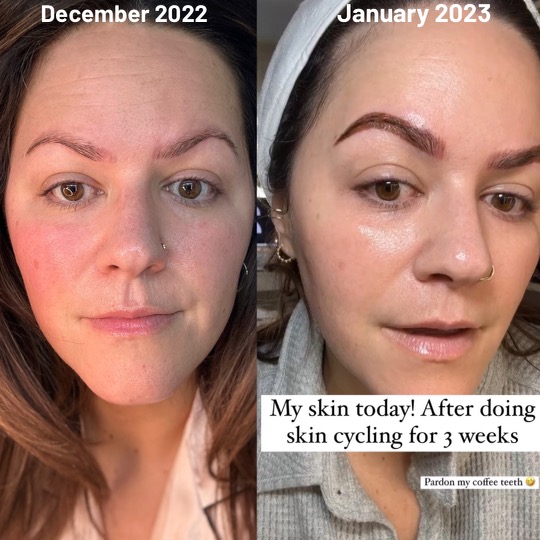 ***As my journey progresses, I will definitely be updating with new pictures, tips, and products, so bookmark this post to refer back to while you are on your journey.
There you have it! The answers for how my skin has been changed forever. This routine will continue to adjust as I don't believe there is truly a onetime fix for a living organ that constantly has different needs. I will always be working to figure out the best products for me and sharing them with you, but keep in mind, not all skin is the same, so even if your routine looks a little different than mine, all that matters is that it is working for you.
I put together some printable skincare routine freebies for you if you are like me and need a visual representation of your routine to keep you on track. All you have to do is click the button below. They will be sent directly to you.
If you have tried skin cycling or other products like I mentioned above, let me know your thoughts on them below! I am always looking for feedback and new products that might be better than anything I have tried before.